Story of Seasons: new details and scans for the latest entry (systems, characters, more)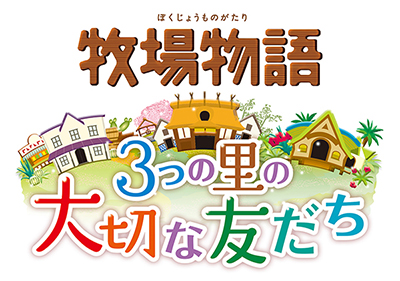 This week, Bokujou Monogatari 3tsu no Sato no Taisetsuna Tomodachi (lit. Story of Seasons: Precious Friends from the Three Villages), the latest entry in the Story of Seasons series, is featured in Famitsu magazine. We get some more details about some characters, gameplay systems, and more!
As mentioned previously, the game has three villages, and you start in Westown (the one with the Western look). That being said, it doesn't take long before you are able to go visit the other two villages (Tsuyukusa Village and Lulucoco Village). In fact, your farm is neighbouring all three villages, so you can easily visit them all; if you own a horse, you can travel between them even faster.
The people of Weston are pretty friendly, and full of energy. As far as activities go, you can go to the river and fish, or mine for minerals at one of the mining locations (provided you have a hammer).
The screenshots on the scans below show the Western design of the Westown buildings, but also of the inhabitants clothes. In the center of town, you can find the Bronze Buffalo Statue, which is the symbol of the village. We also get to see a mining point, and Postino (the Post Office), where you can send letters to your family and friends in all three villages.
Next, we have the Restaurant Garden Grill, which is run by Brad and Carrie (Marco's grandson and his wife, respectively). Even though he has officially retired, Marco still helps at the restaurant often, and tries out new recipes. If you eat at the restaurant, you will be able to recover your stamina, but also get some special effects such as being able to walk faster for example.
The Famitsu article also explains how farming works in Bokujou Monogatari (Story of Seasons) 3tsu no Sato no Taisetsuna Tomodachi. It's actually pretty simple:
you start by preparing the field
you plant the seeds
you water the seeds
you harvest
In the field, you have various build and items (called Farm Circles, one of the new features of the game), and you can place them wherever you want. There's a special type of Farm Circles called "Power Circles", which can impact nearby Farm Circles (they can help raise the crop yield, for example).
Here's some examples of Power Circles:
Cactus: raises the sweetness of crops (most likely useful for fruits);
Flower bed in a cart: makes your crops more colourful;
Water fountain with flowers: increase the moisture levels.
Of course, you can also take care of animals, in order to get eggs, milk, wool, and more.
But enough about farming, it's time to talk about… love! Just like in previous entries in the Story of Seasons series, there's characters called "candidates": you can try to get to know them better, and eventually marry them and have children. Check out below for details on two candidates!
Some characters are introduced in Famitsu's article:
Marco (from Westown): he used to run a restaurant (his wife and his grandson are now running it), but he retired, and now lives a relaxed life. If there's one thing he loves, it's fishing!
Brad (from Westown): Marco's grandson. He now runs the Restaurant Garden Grill, but he's still learning how to cook
Carrie (from Westown): Brad's wife. She doesn't know how to cook at all. She always have a big smile on her face, and she loves helping people out.
Kasumi (from Tsuyukusa Village): one of the bride candidates. She teaches reading and writing at the temple school, and she's not really the talkative type. She doesn't talk much with men of the same age. She loves riding horses, and she's pretty good at handling a Naginata.
Yuzuki (from Tsuyukusa Village): one of the groom candidates. He's an ornament craftsman, with a calm demeanor and a soft spot for sweets. His body has been pretty weak ever since he was a child, and it's for this reason that he often goes to the hot springs in order to heal.
Finally, we have part-time jobs, which are (more or less) side-quests. You can do those in order to earn some extra money, which can be used on the farm or buy things to woo your sweetheart. They work that way:
thanks to an intermediary, you find a part-time job;
you go see the person who needs your help;
you do what they ask you to do;
you get your reward (money, but also some items occasionally).
There are quite a few different jobs: chopping wood, delivering the mail, transporting crops, and more. In one of the screenshot, the player is seen chopping some wood for Lichette, who is one of the bride candidates in Westown.
Here's the latest scans from Famitsu:
Bokujou Monogatari 3tsu no Sato no Taisetsuna Tomodachi (lit. Story of Seasons: Precious Friends from the Three Villages) (3DS) comes out in Early Summer in Japan.
Source: Famitsu
Scans via: JapaneseNintendo
Thanks Ash for the translations!