Steins;Gate Elite headed to the Nintendo Switch, details
Update: details from Famitsu have finally leaked, and confirm Steins;Gate Elite is indeed coming to the Nintendo Switch. The post below has been updated with all the relevant details!
***
A few months ago 5pb. announced that Anonymous;Code was to be released on the Nintendo Switch, alongside the other platforms it was announced for. But it looks like the publisher has another Visual Novel in the works for the console, and one that hasn't been release yet either… Steins;Gate Elite (an "enhanced remake" of the famous Visual Novel).
Officially, the game hasn't been announced yet, and will not be until later today (when the latest issue of Famitsu is released), but it looks like a preview page from Famitsu magazine has spilled the beans early.
Indeed, at the bottom of the preview page, where the platforms the game is releasing on are listed, we can see three platforms being listed. And yet, the game has officially been announced only for two platforms: PlayStation 4 and PlayStation Vita.
What's more, while it's impossible to read the label with the platform name on it (thanks to the fabulous Famitsu watermark we all know and love), we can see clearly that said label is red… which happens to be the colour Famitsu picked for… the Nintendo Switch.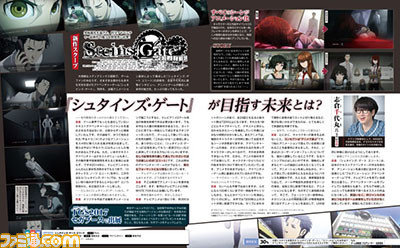 (In case you're wondering: no, the page on the Famitsu website doesn't mention the Nintendo Switch anywhere).
Finally, SEGA's Tokyo Game Show 2017 website has also been listing the game for the Nintendo Switch for a few days now.
But today, leaks from Famitsu confirm that Steins;Gate Elite is indeed headed to the Nintendo Switch. We even get actual details about this "enhanced remake", which is described as "animation adventure game". It seems to be some sort of "interactive anime" system, where you press a button and the animation "plays" accordingly.
The game features all the animation from the 24 episodes of the original anime series, and White Fox returned to create animation for the routes not featured in the anime series. Hopefully, we get a trailer soon, so that we can see how the animation system works out!
Steins;Gate Elite (Switch) comes out this Spring in Japan. The Upcoming Games page has been updated!
Source: Famitsu / Famitsu magazine
Via: ryokutya2089
Thanks Okami for the heads up!