Splatoon Koshien 2016: more details on the tournament, dates and locations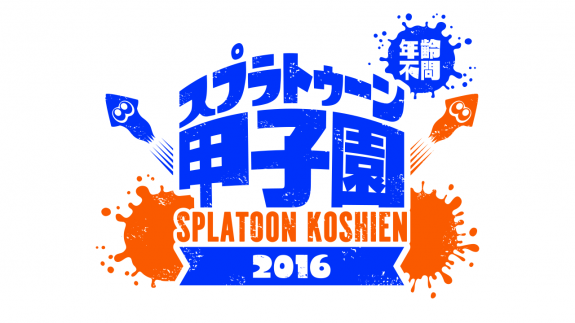 Earlier this month, Nintendo announced the Splatoon Koshien: a nation-wide tournament, which will be held across Japan. It will culminate in a major tournament at the Game Party Japan 2016, in January 2016. Today, Nintendo revealed some additional details about the tournament, which is part of a major eSports push from NicoNico (Dwango).
It will be divided in two parts:
Various tournaments across Japan, with dates at several major cities (see below for the full list);
A major tournament at the Game Party Japan 2016 (whick takes place on January 30th and 31st), where the winners of the local tournaments will battle.
As mentionned previously, those tournaments will consist of 4 vs 4 battles, and to participate, you have to come as a team of 4 players. There's no age limit, but minors will need the consent of a parent/guardian in order to participate. If too many people show up at each tournament, players competing will be chosen via a lottery.
Here's where the first part of the Splatoon Koshien 2016 will take place:
Fukuoka (September 13th)

Sapporo (September 26th)

Nagoya (October 11th)

Osaka (November 3rd)

Miyagi (November 15th)

Hiroshima (November 22nd)

Kagawa (December 13th)

Tokyo (January 30th)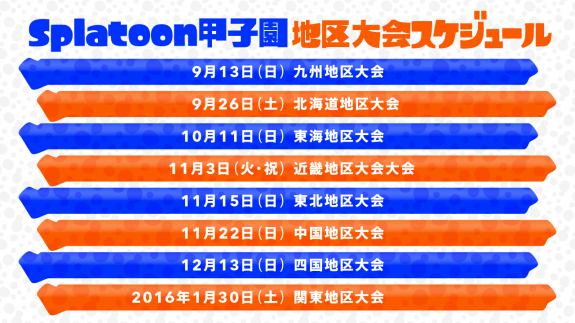 The team who wins each local tournament will get invited to the Game Party Japan 2016. All players will receive a wristband for their participation.
Here's the stage for the local tournaments:
Here's the rules for the tournaments:
Mode: Turf War, 1 battle (with the exception of the semi-finals and the finals).
Stages: Urchin Underpass, Saltspray Ring, Blackbelly Skatepark, Walleye Warehouse, Arowana Mall. Stages will be picked up at random among those 5.
Weapons: all weapons (as long as they were available before the day of the tournament).
Gear: Squid Hairclip (Swim Speed Up), School Uniform (Ink Recovery Up), School Shoes (Ink Saver, Sub)
Version: the version used will be the latest one available on the day before the tournament.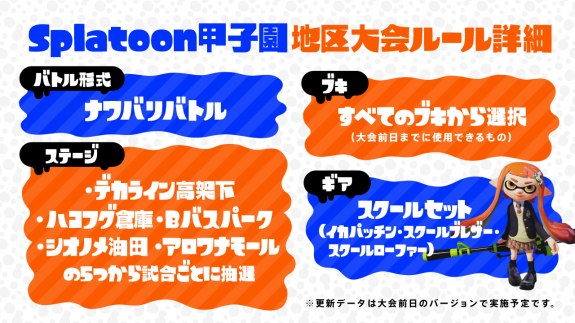 Nintendo didn't make any announcements, but it's pretty much guaranteed the second part of the Splatoon Koshien 2016, at the Game Party Japan 2016, will be streamed live (on NicoNico).
For more details about the tournaments, but also the various rules and a link to register, click on the Source link below!
Source: Nintendo