Splatoon 2: Octune outsells Splatune 2 at launch, with over 19 000 units sold
Last week (on July 18th), Octotune was released in Japan. It's the soundtrack album for the Octo Expansion for Splatoon 2, that also includes the extra music tracks for the main games (added via several Software updates), but also the music tracks by Off the Hook and the Squid Sisters (including the live performances). Make sure to check out this post for more details about it!
And today, Oricon revealed their latest weekly Album charts, covering the period going from July 16th to July 22nd. It reveals that Octotune sold no less than 19 210 units at launch, and was the 7th best-selling album during its launch week. It had quite the fierce competition, as it was released alongside the latest album by KAT-TUN and a best-off album from UVERworld.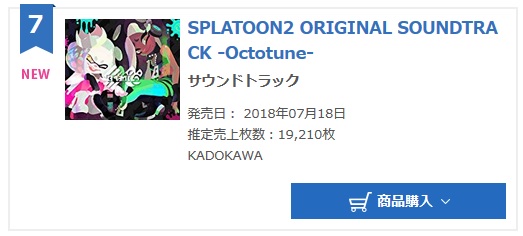 Quite interestingly, Octotune managed to outsell Splatune 2 (the original soundtrack album for Splatoon 2), which sold 18 007 units at launch. This may look surprising, since the album features music from a paid DLC, but this is most definitely due to the fact Octoune also includes other music tracks from the main game, as well as the Off the Hook and Squid Sisters music. Nintendo certainly made the right call when including those in Octoune (and not going for a separate release, like they did for the Squid Sisters songs in Splatoon).
Here's how some previous soundtrack albums for Nintendo games sold at launch:
Splatoon – ~43 000 units (Rank 2)
The Legend of Zelda: Breath of the Wild – 23 328 units (Rank 4)
Splatoon 2 – ~18 000 units (Rank 4)
Xenoblade Chronicles 2 – ~15 000 units (Rank 7)
SPLATOON LIVE IN MAKUHARI – Squid Sisters Live – ~10 000 units (Rank 8)
Source: Oricon