Senran Kagura 2: final design for the Oppai mousepad and the soundtrack cover and CD Art
Back in March, XSEED and Marvelous Europe announced that Senran Kagura 2: Deep Crimson would come out this Summer in Europe and North America. The game will get several editions in Europe, including the Shinobi Collector's Edition (which costs £74.99), and includes:
– A physical copy of Senran Kagura 2: Deep Crimson
– 2 Disk official soundtrack featuring selected music from SENRAN KAGURA 2:Deep Crimson
– Exclusive Hanzo & Hebijo symbol stickers
– Exclusive fold out poster
– Exclusive oppai mouse mat (with 3D boobs)
– Shinobi Certificate
– Unique Shinobi Collector's Edition box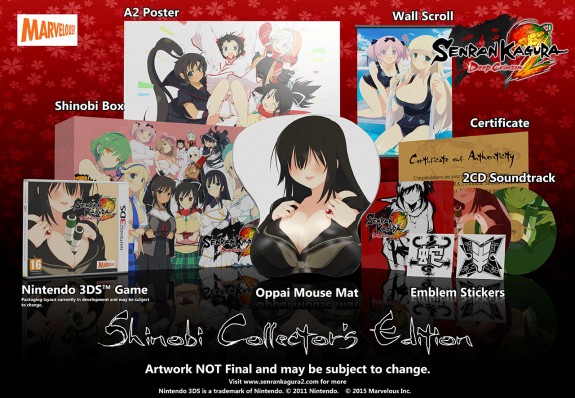 Today, in a blog post, Marvelous Europe announced that there was now only 350 copies of this Shinobi Edition left. That means that once all those have been pre-ordered, there won't be any left, and no more units will be ordered. They also warn players that they won't be able to cancel their pre-order (for any edition) from May 22nd, as they will need to place orders for those units with their suppliers. If you want to cancel your order, do it as soon as possible!
Marvelous also revealed the design for the Oppai Mouse Mat, which was made especially for the Shinobi Edition in Europe by the team in Japan. Once they got the design, they sent it to the mouse mat manufacturer, who then sent them a unit.
Finally, Marvelous also showed the cover of the soundtrack album, along with the full tracklist. Unfortunately, they have some (small) bad news about it: due to licensing issues, two tracks with vocals ("Crimson" & "Beyond Light and Darkness") won't be included.
Senran Kagura 2: Deep Crimson (3DS) comes out this Summer in Europe and North America.
Source: Marvelous