Pokémon news (May 4th) – Pokémon Shuffle: Rotom Daily Event
Pokémon Shuffle
Today, a "new" Daily Event for Pokémon went live. It's actually the Rotom Event, which is back until May 16th, 6AM UTC (after a first run in February). It allows you to catch the various forms of Rotoms, starting with the Frost one today, and with a new one replacing it each weekday.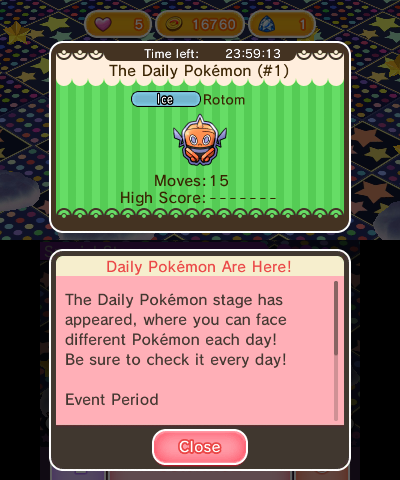 If you need help training your Pokémon, you might want to use an EXP Points: a very handy item that increase the amount of XP received at the end of a battle by 1.5. And that's exactly the item you will be able to get using this code: 04482045. In fact… you will get 5 of them, courtesy of the Pokémon Center in Japan.
The good news is: this code works with all versions of the game, not just the Japanese one. You have until June 1st to redeem it.
Pokémon Omega Ruby / Alpha Sapphire
A little heads up for players in the UK: you have until tomorrow to use the serial code distributed recently in GAME stores. But as noted by Serebii, the end date for this one is rather ambiguous, with 3 different dates given:
– May 5th (official website)
– May 10th (trailer for the distribution)
– May 13th (serial code leaflet)
Just to be on the safe side, you should redeem your code before tomorrow!
Source: Serebii