Nintendo eShop: Friends of Runbow sale in Europe and North America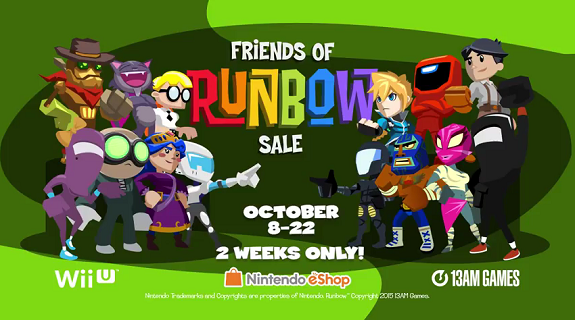 Do you like Runbow? Are you interested in indie games? If your answer is yes to both questions, then this news is definitely for you! This week, 13AM Games teased a little surprise for Thursday, and we now know what it is: a special sale in the same vein as the Super Indie Connection sale.
It's pretty straightforward: if you own Runbow on Wii U, then you can get at least 30% off on several indie games. Of course, the discount doesn't apply to just any indie games, but more precisely those which have guest characters in Runbow! It looks like 13AM Games managed to find a way to turn those cool cameos into a rather neat special offer!
Here's the list of games eligible for this Friends of Runbow sale:
Chariot (Wii U)
The Fall (Wii U)
Guacamelee Super Turbo Championship Edition (Wii U)
Azure Striker Gunvolt (Nintendo 3DS)
Mutant Mudds Deluxe (Wii U and Nintendo 3DS)
SteamWorld Dig (Nintendo 3DS and Wii U)
Runner 2: Future Legend of Rhythm Alien (Wii U)
Stealth Inc. 2: A Game of Clones (Wii U)
Teslagrad (Wii U)
Xeodrifter (Wii U and Nintendo 3DS)
Scram Kitty (Wii U)
Sportball (Wii U)
This offer is available from October 8th (today) to October 22nd. You need to use the same Nintendo Network ID on both your Wii U and Nintendo 3DS for the discout to apply. The Nintendo Network must be linked to your Nintendo 3DS before purchase.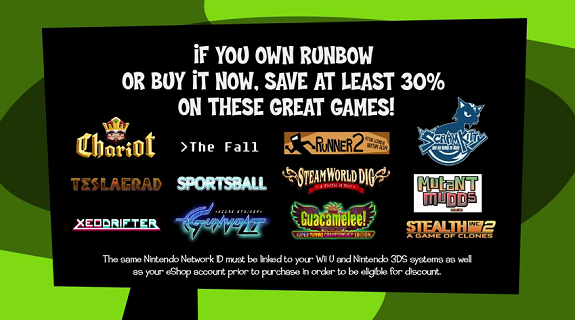 Here's the announcement video for this Friends of Runbow sale:
Source: Nintendo