[Reminder] Pokémon Direct presentation starts in 5mn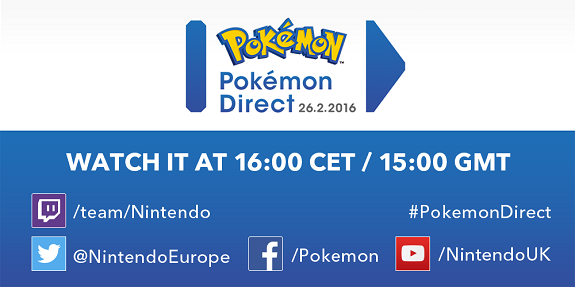 On February 27th, the Pokémon series will celebrate its 20th Anniversary, which is why that day will be known as Pokémon Day. The Pokémon Company has prepared several events to celebrate, but it looks like there will be one more: a special Nintendo Direct presentation, entirely focused on Pokémon.
This Pokémon Direct presentation will last only 5 minutes, and The Pokémon Company promises some "big Pokémon news". Obviously, there's no way to know beforehand what will be announced, but fans have a pretty clear idea of what will be announced.
This Pokémon Direct will be streamed live on February 26th in the west, and exactly midnight on February 27th in Japan. Here's the time for each major region:
Europe: 4PM
United Kingdom: 3PM
North America (ET): 10AM
North America (PT): 7AM
Japan: 12AM (February 27th)
Link and livestreams
Europe
Twitch (with livestreams for all countries)
Australia
North America
Japan
YouTube (livestream below)
https://www.youtube.com/watch?v=-gjNhcqeUt4
Source: Nintendo (Europe / North America / Japan)