NBA 2K19 (Switch): Software updates (latest update: Patch 6)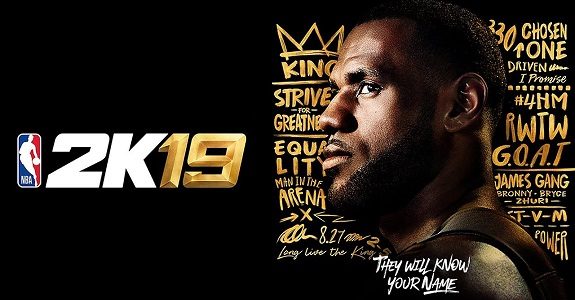 On this page, you will find all there is to know about the Software updates for NBA 2K19 on Nintendo Switch (originally released on September 11th 2018 in Europe, North America, and Japan).
How to download updates for NBA 2K19 for the Nintendo Switch?
To download the updates for NBA 2K19, you have three options:
let the console do its thing if you have automatic downloads activated, and didn't completely turn it off
If not…
try to launch the game from the Home Menu while being connected to the internet. You should get a prompt when doing so: simply follow the instructions on screen;
OR
select the game > press either + or – to go to the Options page > select Software update > select Via the Internet.
To check that you have the latest version installed, simply select the game on the Home Menu, and press – or + to go to the Options: the version number is displayed just below the game title.
Click here for more Software updates!
NBA 2K19 – Patch 7
Release date: December 6th 2018 (Europe, North America) / December 7th 2018 (Japan)
Patch notes:
General

The latest uniform and shoe updates will now automatically update in your MyCAREER/MyLEAGUE/MyGM saves.
Updated action photos for players who did not have one / had one from their previous team.
A number of players have received new Face/Hair/Tattoo updates. Check out LeBron's brand new face scan!

Gameplay

Reduced the frequency of shooters falling to the floor when shooting shots in traffic.
Fixed an issue that was causing illegal screens to be called in inappropriate circumstances.

MyCAREER

Setting your MyCOURT to 'by permission only' will now allow others in once proper permission has been granted.
Users who reach the highest level shoe endorsement will no longer need to purchase their custom created On-COURT shoes.

Neighborhood

Entering the MyCOURT on a skateboard/bicycle/etc. will no longer restrict the user from immediately leaving the MyCOURT should they choose to do so.

Pro-Am

Alternate jerseys are now available for use in Pro-Am Team games.

MyTEAM

New support for showing the current Player of the Month card on the MyTEAM Unlimited menu tile.
Fixed an issue where the color of a card would not upgrade to the next tier in the Lineups menu when the card was paired with its Duo partner.

MyGM/MyLEAGUE

The All-Star game should now properly appear on the schedule for the current season when starting a new Start Today mode.
Users are now able to schedule practices in the first season of a Start Today mode (fixes the case where players would experience declining ratings after the first season).
Fixed an issue where some users were reporting game disconnects during timeouts of MyLEAGUE Online games.
Addressed a case where some users reported being unable to play with/against their friends in MyLEAGUE Online.
Additional notes: all patch fixes will work in your existing game mode saves.
Source: Take-Two (Facebook)
NBA 2K19 – Patch 6
Release date: November 20th 2018 (Europe, North America) / November 21st 2018 (Japan)
Patch notes:
General

Fixed an issue that caused the final league trophy and 'Perfection' achievement to not unlock for some users in Play Now Online.

Fixed an issue in Play Now Online where the wrong user could be credited with the win, in very rare occasions.

Updated roster images for traded players.

Gameplay

The shot clock should now properly reset to 14 seconds during online games when a foul is called and the shot clock is low.
Improved AI defensive switch logic for inbounds and pick & roll cases.
Fixed an issue that caused pass steal attempts to be ignored when pressing Steal too many times.
Address a hang that would occur for some users following an in-game injury.

MyCAREER/Neighborhood

Fixed an issue where some users were reporting that they were not earning VC for completed Neighborhood games after exiting the Ante-Up building.
Addressed a case where some users noted a neck seam around their MyPLAYER's shoulders when using a face scan.
Fixed an issue where Voice was not properly functioning when in the squad queue in Ante-Up.
Squad travelling should now properly work when using the Subway.
Improved ball pickup radius when playing Dodgeball.

Pro-Am

Fixed a bug where opposing players would sometimes show in the Pro-Am Shootaround before the game.
Matchmaking improvements.

MyTEAM

Users now have an option to mute their opponent when playing Triple Threat Online.

MyGM/MyLEAGUE

Alternate uniforms should now properly upload/download when sharing team designs.
Fixed an issue where hot zones and some tendencies (e.g. Shot Under Basket) could progress irregularly, in certain conditions, during the offseason.
Addressed a case where Advanced Rotation settings would reset to default when entering the Advanced Rotations menu for a team that had previously been assigned custom values.
Stability improvements for MyLEAGUE Online.
Additional notes: all patch fixes will work in your existing game mode saves.
Source: Take-Two (Facebook)
NBA 2K19 – Patch 5
Release date: October 30th 2018 (Europe, North America) / October 31st 2018 (Japan)
Patch notes:
General

In Play Now Online, the opponent's uniform will now be displayed in the pre-game settings (to minimize uniform conflicts in games).
If two users pick the same color uniform for a Play Now Online game, the last user to select their uniform will have their uniform automatically changed to one of another color during loading.

Gameplay

Improved logic and visuals of "pulling the chair" in the post.

MyCAREER

Fixed a case where certain stat combo performance incentives (e.g. 25 points and 12 rebounds) were not consistently rewarding the user with the correct amount of VC.
(Switch) Players will no longer appear without uniforms when they play a game in which the Ring Ceremony took place.

Neighborhood

Fixed an issue where headphones would be removed when entering Ante-Up or using the Subway.
Users are now able to see other players' headphones when viewing them in the Neighborhood.
End-of-game improvements to the Dodgeball experience.
Improved lighting quality inside the new Ante-Up daily spin room.
The VC amount should now always properly appear above the court when in the Ante-Up courts.
When playing a crew game, all users will properly appear in their crews uniform (i.e. will not appear as a mascot).
Fixed a disconnect issue that users were reporting during the Court Conquerors events.
(Switch) Fixed an issue where areas of the walls would lack collision in the new Ante-Up prize wheel room. Make sure to visit location daily to get in your free spins for prizes!

Pro-Am

Users will no longer be required to finish out games against all AI players when the opposing team forfeits by leaving the game.

MyTEAM

Added the ability for users to view what Moments cards are currently available in Heat Check and League Moments packs (press 'Y'/Triangle button when viewing those packs in the Pack Market).
Cards will now visually show their new, upgraded gem levels when a Duo boost bumps them up over a threshold.
Addressed a pause glitch that allowed some users to pause a Triple Threat Online game indefinitely.
Fixed an issue where the proper Heat Check attribute/overall rating boosts would not display upon visiting the Lineups menu.
Head-to-Head game types (Play With Friends, Unlimited) should now use default free throw difficulty settings rather than the global settings of one of the users involved in the game.

MyGM/MyLEAGUE

Improved server stability and performance in MyLEAGUE Online.
Gameplay-related Rule Changes (voted on in the offseason League Meetings) should now properly take effect during head-to-head games in MyLEAGUE Online.
Fixed a hang that some users would see down the line after previously importing a player's appearance using Player DNA. If you previously encountered this issue, your save should now be retroactively corrected.

Many other small bug fixes and adjustments were also made, game-wide.
Additional notes: all patch fixes will work in your existing game mode saves.
Source: Take-Two (Facebook)