Mario Kart 8: new update (Ver. 4.0) and DLC now available
As announced during the April 1st/2nd Nintendo Direct, the second DLC pack for Mario Kart 8 comes out today worldwide (Japan, Europe and North America). But before players can enjoy it, they will have to download the new Software update that was just released by Nintendo. It requires 247MB (Europe).
It brings Mario Kart 8 to version 4.0 and includes the following changes:
– update required to download the second DLC pack
– 9 new Mii suits added: Wario, Pac-Man, Olimar, Bowser, Sonic, Toad, Villager, Rosalina and Mega Man (requires the corresponding amiibo)
– 200cc class added, may need to be unlocked (Grand Prix: 150cc completed)
– added sparks effect when braking in 200cc class
– added braking on the Wii Remote by pressing the B, 1 and 2 buttons at the same time
– added ability to add CPU players for Online custom rules, but only human players will be counted for scoring
– press – to display the map on the TV screen with the Pro Controller, Classic Controller, Wii Remote + Nunchuk
– on the Animal Crossing circuit, seasons are not random when you play Time Attack (only Summer)
– 10 new stamps for Miiverse (Link, Isabelle, Animal Crossing's tree, F-Zero logo, Bowser Clown jack-in-the-box, Hylian emblem, Animal Crossing's house, Blue Falcon, Kung-Fu Lakitu, Neo Bowser City logo)
– various bug fixes
(This post will be updated when the official changelog is available in English).
To download this update, you have two options:
– let the console do its thing if you have automatic downloads activated;
– update manually by launching Mario Kart 8 from the Home menu (not via the Quick Start menu, as it bypasses the update check-up).
As for the DLC, it is available as a separate download. It requires 972MB of free space on your Wii U or external HDD. You can download right from the game's menu, provided you have bought it beforehand.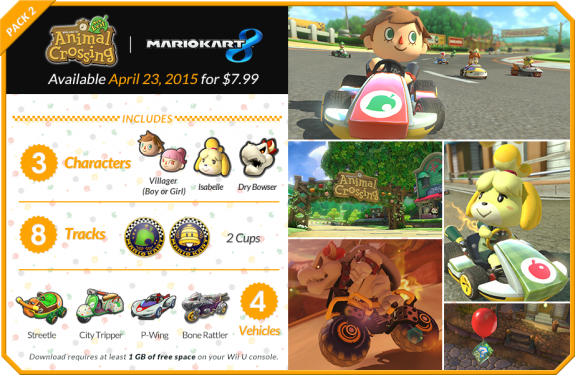 Source: Nintendo
Thanks Robin64 for the list of Miiverse stamps.