[Japan] Nintendo eShop line-up (Dec. 2) – Pokémon Picross / Lost Reavers
This week, the line-up for the Nintendo eShop in Japan is rather meaty, with the usual batch of Virtual Console and retail titles, but also original games. On Wii U, there's Lost Reavers, and on Nintendo 3DS, Pokémon Picross: they're both Free 2 Start, which is great news if you want to try them out without having to pay anything!
Bolded are games we recommend.
Wii U
Lost Reavers (Bandai-Namco): Free to Start
Dot Paint / Pixel Paint (Rainy Frog): 400 Yen
Wii U Virtual Console
Nintendo 3DS
Pokémon Picross (The Pokémon Company): Free to Start
Kamen Rider Ghost: Game de Kaigan!! (Bandai-Namco): 1 000 Yen
Chou Kagaku Dasshutsu: Gear Detective (Intense): 500 Yen
Toys vs Monsters (Cosen): 500 Yen
Mario & Luigi: Paper Jam Bros. (Nintendo): 5 076 Yen
Gudetama: Hanjuku de Tanomuwa (Rocket Company): 5 184 Yen
Nintendo 3DS Themes
Nintendo Badge Arcade
Today, Nintendo added the following badges:
Animal Crossing Christmas: 8 panels
Pokémon Christmas: 4 panels
Tomodachi Collection food: 2 panels
+ Christmas-themed Nintendo 3DS Theme if you buy 10 plays (180 Yen)
+ 2 free plays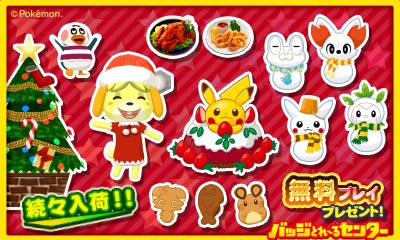 Source: Nintendo eShop / Nintendo
Via: Japanese3DS