James Montagna working on Dot Arcade game for the Wii U
You may know James Montagna from Adventure Time: Hey Ice King Why'd You Steal Our Garbage?!! or Wonder Momo, but his new game (the first one he's making on his own) is radically different. For starters, it's not based on a known franchise, and more importantly, it's pretty abstract. Indeed, it's based on an actual dot arcade game.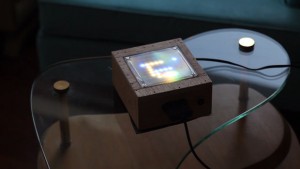 Dot Arcade for the Wii U is actually a collection of 3 games: Mr. Snake, Dodge Club and Rally Driver. They all share the same "setting": a 8×8 screen with virtual flashing lights displaying the action. They each get their own "cabinet artwork", which were designed by artists like Jordan Canales or Jeremy Hobbs. Even though the game won't be out until next month, James Montagna already has plans for a possible "sequel": if there's enough demand, he could make extra cabinets for each the game, or even a Dot Arcade Vol. 2 with new games and cabinets.
This is a quite intriguing project, even though static screenshots don't really do it any justice. It is the result of James Montagna's love for video games, and he hope it'll find an audience: after all, he worked to make sure Dot Arcade was both fun and refreshing, and not just surfing on the "cool 8-bit" vague.
Here's what James Montagna had to say about his effort to keep the experience as authentic as possible:
" [I] even paid special attention to detail throughout the experience, and kept everything authentic to how it worked on our physical hardware. The beeping / buzzing sound effects, frame-by-frame input feedback, slowdown with many objects on screen… as well as details outside the gameplay, where the menu music on the TV and GamePad are different, but complement each other in unison. We've only seen first party Nintendo games try to pull this off."
Dot Arcade Game (Wii U) should come out next month in North America: it has already been rated by the ESRB, and it has gone through Nintendo's Lot Check. In fact, James Montagna only needs to chose the release date for the game!
Source: Destructoid