Genei Ibun Roku #FE: new character trailer, video, details and screens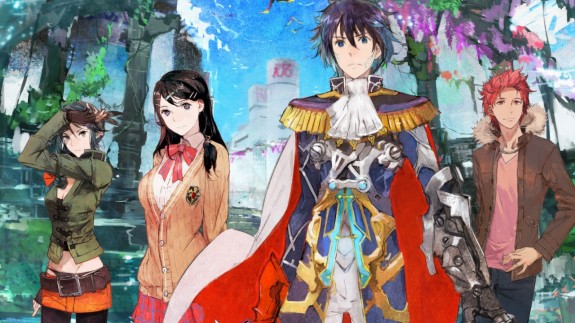 Today is Friday, which means it's time for the latest official website update for Genei Ibun Roku #FE! Just like the past few weeks, we get more than just one new character trailer: Nintendo also updated the System section with a video, some new details and a couple of new screenshots. What's more, we also get details about the Special Vocal Selection in the two #FE Fortissimo Editions!
Character trailers
Let's start right away with the character trailer, which is for:
Tsubasa Oribe (voiced by Inori Minase): a young woman who dreams to become an idol who can make everyone happy. Her Mirage is Shiida (voiced by Saori Hayami), from the very first Fire Emblem game.
Here's some artworks for this character and his Mirage, as well as a special drawing by toi8 (the chara-designer):
Side Stories
Today, the System section of the website was updated, and we get details about the Side Stories. Those allow you to take a break from the main story and your fight against the evil Mirages. They're kind of a "Behind the scene" feature, which allows you to learn more about the other characters: their dreams, their worries, their fears, etc..
During those Side Stories, you will help characters with their stage show, the recording of a cooking program, the filming of a drama series, and more. Of course, you will take part in battles, which will allow you to make your characters even stronger. In fact, completing Side Stories nets you some Special Skills, which are bound to prove useful in your fight against the evil Mirages.
Nintendo uploaded a video for Side Stories, which shows one of the Side Stories for Toma Akagi. You start by triggering it, which is done by answering one of Toma's messages. Then you go meet him in town (you can find him thanks to an icon on the map) and accept the quest. The quest involves helping Toma Akagi with a Super Hero stage show for kids.
Here's the video and some screenshots:
Special Voice Selection CD
On the official blog, Aburai Shouji (from avex) revealed which tracks would be on the Special Voice Selection CD from the #FE Fortissimo Editions of Genei Ibun Roku #FE:
"Reincarnation", by Kiria (voiced by Yoshino Nanjou)
"Feel", by Tsubasa Oribe (voiced by Inori Minase)
"Dream☆Catcher", by Oribe Tsubasa and Yumizuru Eleonora (voiced by Minase Inori and Sakura Ayane)
"Beastie Game", by T I K i (voiced by Morohoshi Sumire)
"Dia☆Majo! Sweet ♡ Kiria Ver", by Kiria (voiced by Yoshino Nanjou)
The website for the Genei Ibun Roku #FE Premium Live was updated and shows the list of "artists" for the show:
 Yuki Ono (Toma Akagi)
Ryouhei Kimura (Itsuki Aoi)
Ami Koshimizu (Maiko Shimazaki )
Yuichi Nakamura (Barry Goodman)
Yoshino Nanjou (Kiria)
Kaori Fukuhara (Minamoto Mamori)
Inori Minase (Tsubasa Oribe)
Genei Ibun Roku #FE (Wii U) comes out on December 26th in Japan, and next year in Europe and North America.