Fire Emblem Heroes: plenty of details about the latest Software update (Ver. 2.5.0)
Every month, Fire Emblem Heroes gets a new Software update, and naturally, May will be no exception. If you thought that Ver. 2.4.0 was a big update, then wait until you see what the developers have in store for Ver. 2.5.0, releasing in Early May!
Here's a quick rundown of all that's included in this update:
Updates to the Arena;
New weapon skills;
New options in Weapon Refinery;
Minor improvements for future Tap Battle events;
Improvements for Rival Domains;
Heroes who are defeated in battle will no longer lose the SP and EXP they gained in battle;
The SP and EXP earned in maps that have already been cleared will no longer be reduced by half;
Along with improvements to the tutorial, gifts will be given out to existing players, including 4 ★ Takumi, the Wild Card.
In order to prepare for this new update, there will be some maintenance on May 9th (May 8th in North America), which means the update will release on that day. Check out this page for more details about the maintenance!
Also, since the Arena is getting some changes this time around, the new Season will begin one day later than usual (on Wednesday). Both the Arena and Arena Assault, as well as the related Daily Quests, will be unavailable until the new Season begins. The schedule will go back to normal from the following Season onwards.
Fire Emblem Heroes – Changes to the Arena
In order to encourage even more players from trying out the Arena, the following changes will be made:
the chain bonus will have a max of five consecutive victories (instead of 7);
Chain Rewards are being added: you get those with consecutive victories, but only once per Season. Rewards include Orbs, Hero Feathers, and more. Also, those Chain Rewards basically replace Offense Rewards, which will no longer be given out (though the number of rewards you can receive will increase overall);

Bonus Allies will receive a similar stats boost as in Tempest Trials events (HP+10 and Atk/Spd/Def/Res+4), though this will not have an impact on the evaluation of your team's strength (so this will not change anything regarding matchmaking). Also, your opponent's Heroes will not get that stats boost, even if they're using the right ones.
Fire Emblem Heroes – Weapon skills and the Weapon Refinery

Some new weapon skills will be added with Ver. 2.5.0 of Fire Emblem Heroes, and will be learnable by the appropriate unit at 5 ★:
Rhompaia (Clair: Highborn Flier)
Camilla's Axe (Camilla: Bewitching Beauty)
Also, you will be able to strengthen the following weapon skills using Arena Medals and Divine Dew:
Yato (Corrin: Fateful Prince)
Fire Emblem Heroes – Improvements to Tap Battle

With Ver. 2.5.0, Tap Battle: Illusory Dungeon events are getting some welcome improvements. For starters, some extra stages will start appearing from the 4th day of the event. Also, you will be able to earn Hero Merit by clearing stages, with the amount depending on your performance. Finally, preview notifications for the next stage will appear.
Also, improvements are coming to Grand Conquests events, based on feedback received after April's event.
Fire Emblem Heroes – Improvements to Rival Domains

But it's not just Tap Battle: Illusory Dungeon events that are getting improvements: Rival Domains are also getting some! All the changes impact enemy units:
enemies will no longer be able to attack right after warping;
enemies will no longer be randomized (the same ones will appear each time);
enemy brigades will now include 40 units, which means that a given unit will generally appear less times per battle.
Fire Emblem Heroes – Tutorial and Playability Improvements

In order to make it easier for new players to get into Fire Emblem Heroes, various improvements will be made, including a new tutorial. Players who started playing with Ver. 2.4.0 or earlier will get a Thanks for Playing gift (allowing them to improve their Heroes in the same way as in the new tutorial), that includes the following:
4 ★ Takumi, the Wild Card
A set of materials allowing you to unlock the potential of initial allies to 4 ★:

13 200 Hero Feathers
60 Scarlet Badges
30 Azure Badges
30 Verdant Badges
60 Transparent Badges
20 432 Scarlet Shards
10 216 Azure Shards
10 216 Verdant Shards
20 432 Transparent Badges
This gift will be available to eligible players from May 9th onwards.
There will also be some changes for new players, starting with the rarity of the allies you get at the very beginning being bumped to 4 ★:
Anna: Commander
Alfonse: Prince of Askr
Sharena: Princess of Askr
Raigh: Dark Child
Matthew: Faithful Spy
Virion: Elite Archer
Other changes include:
the first Hero you obtain will now be Takumi, the Wild Card instead of Virion: Elite Archer (that you will now get at the same time as Raigh: Dark Child and Matthew: Faithful Spy);
additional explanations about game controls will be added to the tutorial to guide new players;
all strata of the Training Tower will now unlock after clearing Prologue: Part 3;
the Auto-Battle button will automatically be available on the battle screen;
other adjustments will be made (including enemy strength).
Current players don't have to feel left out: they're also getting their own set of changes! In order to allow for smoother game progress, the following changes will be made:
a Hero will no longer lose all SP and EXP earned in battle if they are defeated;
when clearing a map you've already cleared, the amount of SP and EXP earned will no longer be reduced by half.
But that's not all: a new feature will allow you to change how movement and action animations are shown during battle for any AI-controlled character. This new option is called "Foe/Ally Auto-Battle Movement", and when set to Guided (by default), the movements and actions of characters during battle will be shown in greater details.
If you want to decrease the amount of time taken by enemy actions and movements, you have to set the option to Simple manually (Guided will be set by default). Important note: if you set "Auto: No Animation" to On, then the settings for "Foe/Ally Auto-Battle Movement" will not be reflected (for obvious reasons!).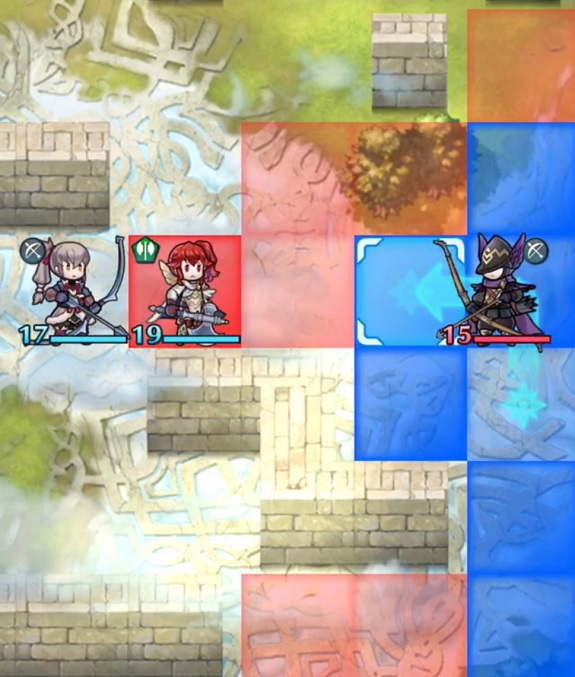 Fire Emblem Heroes – Other improvements

Finally, here's some more improvements and changes being made with Ver. 2.5.0 of the game:
movies will no longer trigger when summoning certain Heroes (though you will still be able to check out the summoning movies in the "Movies" section, in the Misc. > FAQ/Etc. menu);
additional options will be available in the Sacred Seal Forge;
a new setting will be added to prevent the music from changing during an enemy's turn;
the Mini units in Catalog of Heroes will now appear with updated weapons;
support for Android 8.0's adaptive icons will be added.
Source: Fire Emblem Heroes