Famitsu: interview with Masahiro Sakurai and Tetsuya Nomura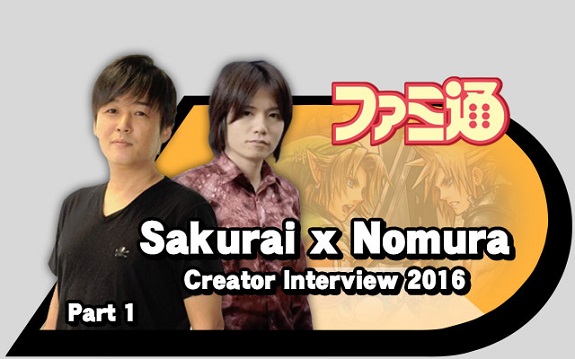 As revealed on Tuesday, Famitsu has special interviews with famous game creators. There's one with Masahiro Sakurai and Tetsuya Nomura, which has been fully translated by Source Gaming:
In the interview, Masahiro Sakurai reveals that he had never met with Tetsuya Nomura before Super Smash Bros. for Wii U and Nintendo 3DS, and the addition of Cloud as a DLC character. He was actually surprised that the creator agreed to meet him, but for Nomura, having Cloud appear in Super Smash Bros. is not something he could have turned down.
Masahiro Sakurai reveals that among fans requesting a Final Fantasy character for Super Smash Bros. for Wii U and Nintendo 3DS, roughly ¼ to ⅓ of all requests were for Cloud. For him, chosing Cloud made the most sense, and it was hard for the team to come up with a character other than Cloud. This isn't all that surprising: he's a pretty well known character, from one of the most beloved Final Fantasy games, after all.
Here's what he said about that:
Sakurai: But on the other hand, if you think about who to add from Final Fantasy, it's hard to come up with a choice that's not Cloud. We could have used Terra or Bartz, protagonists in their own right, but I feel like there would be some people who wouldn't know who those characters are.
Later in the interview, Tetsuya Nomura reveals that he had a lot of fun drawing the special illustration for Smash (that all "guest" characters get), even though he ended up having a lot of trouble picking up characters to include. The thing is, he didn't know he was allowed to include just about any character, and there was no requirement that they all appeared in Super Smash Bros.
One thing Masahiro Sakurai and Tetsuya Nomura have in common is that they're both born in the same year (1970). In fact, Masahiro Sakurai notes that plenty of famous Japanese game designers were born in the 70's:
Sakurai: If you pull up a list of game designers born in 1970, there's quite a few big names: Hideki Kamiya (Bayonetta), Fumito Ueda (ICO), Yoko Taro (NieR series), Jin Fujisawa and Yosuke Saito (Dragon Quest X), Chiyomaru Shikura (Steins;Gate), and the late Kenji Eno (D and others). Internationally, you have John Carmack, the father of FPS's, as well. As a generation, a lot of us were directly impacted by  the dawn of the PC and the home gaming console.
To read the full interview, make sure to go check out Source Gaming:
Source: Famitsu
Via: Source Gaming