Dai Gyakuten Saiban: second local promo video, more tweets

Promo Video
A few weeks ago, Capcom did a special "Mall Tour" across Japan, stopping at some major cities such as Osaka and Tokyo. During each stop, various games by Capcom were playable, including Dai Gyakuten Saiban: Naruhodou Ryuunosuke no Bouke. And As mentionned before, some special "skits" were prepared as "greetings" for the visitors.
Today, Capcom uploaded the promo video for Nagoya:
Shu Takumi
Yesterday, Shu Takumi posted even more tweets on his personal Twitter account. First, he explained that as the release day is drawing nearer, he's not sure whether he should feel relaxed or tense… the past few days have been weird for him.
Today, he was in Tokyo for the "Super-Rare Temp Job", which was announced a few months ago. One day, he was browsing the internet during lunch when he saw that strange ad. With this special "part-time job", 2 people were able to play the game and talk with the developers during one day… and got paid 30 000 Yen!
Shu Takumi really couldn't believe it when I read it, and he was shocked when he found out that he couldn't apply… because he was one of the very developers the two part-timers could talk to! After all, getting paid just for playing a game and talking with the developers is quite tempting, and Shu Takumi would have accepted even half that money. Yesterday, he was also wondering what kind of person the two part-timers would be.
Apparently, he's not quite sure whether Shintaro Kojima (the producer) mentionned that job offer to him before (he apparently did!), but he still found that was a neat way to promote the game. He also mentionned the "Mall Tour" from Capcom, which stopped at Sapporo, Nagoya, Hakata, Osaka, and Tokyo. He actually went to the one in Osaka (which is where Capcom is located).
Shu Takumi remembers clearly when they came up with the idea of making mini-skits for each location, with Naruhodou Ryuunosuke and Sherlock Holmes. He then mentions that some of them are now available on YouTube, with the rest coming up soon.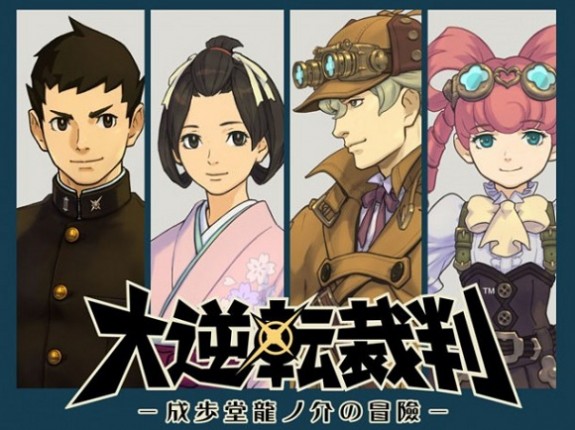 Dai Gyakuten Saiban: Naruhodou Ryuunosuke no Bouken (3DS) comes out on July 9th in Japan.
Source: Shu Takumi
Thanks Court-Records for the translations!