Comic Workshop 2: new update available in Europe (Ver. 1.2)
Update
Jeremy from Collavier revealed that the update would be available next week in North America!
***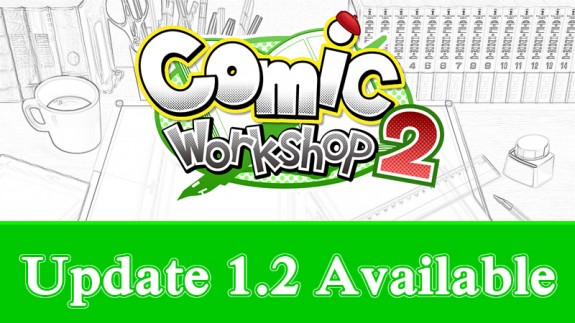 Earlier today, Collavier released a new update for Comic Workshop 2, which brings several additions and bugfixes to the Software. This new Ver. 1.2 can be downloaded right away from the Nintendo eShop, but only for users in Europe. Unfortunately, we don't know when it will be released in North America.
Here's the official changelog:
An auto-correction for curves has been added. Making quick curves will not result in straight line segments anymore.
Preview icons displaying the size of various tools like the Pencil, Text, or Blur tools have been revised to look much sharper.
Fixed a critical error occuring when making small selections when the zoom level is higher than 100%.
Density level for the Pencil, Eraser, and Straight Lines has been improved.
A display bug when making small and thin panels has been fixed.
The size of texts appearing in pop-up windows has been adapted for better readability purposes.
Other small bugs have been fixed.
This update requires only 22 blocks (2.75MB) of free space on your SD Card. To download it, you have several options:
you can select the game from the Home Menu (while being connected to the internet), in order to trigger the download;
you can search for Comic Workshop 2 on the Nintendo eShop
you can use the option on the Nintendo eShop Settings page
Source: Miiverse / Nintendo eShop