[Brief] Pocket Card Jockey: trailer, North American release date
Update
Today, Nintendo of America re-uploaded the segment for Pocket Card Jockey from the latest Nintendo Direct presentation. At the end, it reveals that the game will be released on May 5th, just like in Europe.
Our Upcoming Releases page has been updated!
***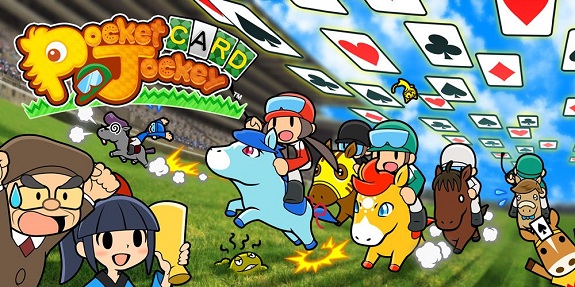 Game Freak is mostly known for the Pokémon series, but in the past couple of years, the company has worked on several side projects (such as HarmoKnight). Pocket Card Jockey is one of them, and it's a unique mix of horse racing and solitaire, on Nintendo 3DS. If you're curious about the game, a demo is available right now on the Nintendo eShop in Europe and North America.
Nintendo also uploaded a trailer for the game today:
Here's what we wrote about the game in our Nintendo Direct report (back in March):
By clearing cards, you get unity power. You can use that power to move your hose faster on the track, or save it for a boost at the end. By winning races (which is done using strategic placement on the tracks), you can level up your horse. When you do, its stats will increase, along with your game bonuses.

After a while, you will start earning trophies for winning high ranking races, which will catch the attention of sponsors. You will also be able to get new horses, pair them up, breed them, and train new mounts for you to use in races.
Pocket Card Jockey (3DS eShop) comes out on May 5th in Europe, and May in North America.
Source: Nintendo