Animal Crossing: amiibo Festival – Trailer for the board game and mini-games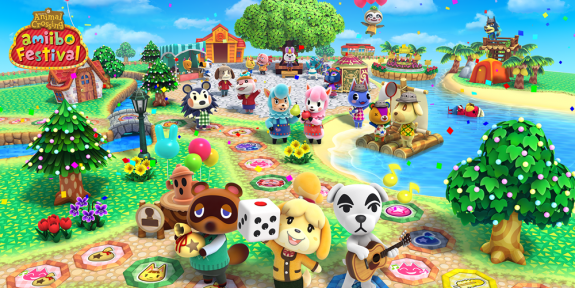 A few minutes ago, Nintendo of Europe uploaded a new trailer for Animal Crossing: amiibo Festival, which is significantly meatier than the one uploaded by Nintendo of America earlier this week. However, it doesn't show anything really new, and simply showcases the details we got a few weeks ago via a Press Release.
Basically, it shows how you use your amiibo to move your character on the board, in order to get as many Happy Points as possible (by landing on a pink case, or taking part in special events). From time to time, some characters will come, and trigger special events (a dance festival, a bug catching contest, etc.).
You can also build various things on the board, invite animals using the Animal Crossing amiibo cards, save Happy Points on your amiibo to unlock costumes/emotions, and more. As for the amiibo cards, they can also be used for mini-games: some of them are actually showcased in the trailer below.
Here's the latest trailer for Animal Crossing: amiibo Festival on Wii U:
Animal Crossing: amiibo Festival (Wii U) comes out on November 13th in North America, November 20th in Europe, and November 21st in Japan.
Source: Nintendo