Animal Crossing: amiibo Festival – New details (board game, amiibo, more)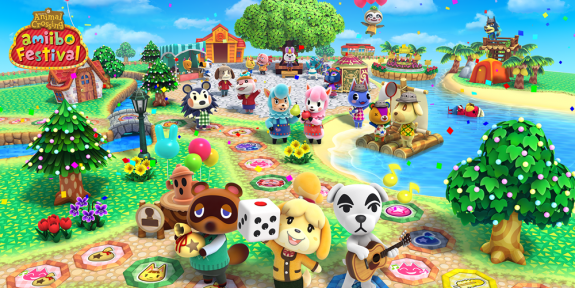 This morning, Nintendo sent a press release to reveal plenty of new (and not so new) details about Animal Crossing: amiibo Festival. Since Nintendo hasn't mentioned the game very often since E3, many players are still wondering what's in store in this Wii U spin-off, so this new batch of details is more than welcome.
As seen in the Japanese overview trailer, players use the amiibo of their favorite Animal Crossing characters (Tom Nook, Digby, Isabelle, etc.) to play as them in this board game. The goal is to travel across the board, and get as many Happy Points as possible. To do so, you tap your amiibo on the GamePad in order to roll the dice and move your character.
Each time your character lands on a case, they get involved in "sketches" (described as "quirky adventures around the town"): they will sing at the station for more Bells, go on a shopping spree or visit the town museum. Those sketches allow your characters to get more Bells and Happy Points, but also see the inhabitants in a new way.
Nintendo explains that each turns = a day, and that each play session = one in-game month. The board has special events for each month (such as Fishing Tourneys of Bug-Offs), but it also changes depending on the season (just like in the mainline Animal Crossing games). The town also changes as you play, with new buildings and new routes built (you need to use Happy Points for that), adding a bit of variety.
If you're into turnip trading, you'll be glad to hear that every Sunday, Joan shows up and you can buy turnips from her. Then, players have to sell any turnip they have before the following Sunday. But there's a catch: the selling price isn't the same depending on the case you land on, so you might get lucky and hit the jackpot with a very beneficial price… or end up losing a lot of money!
Your goal in this game is to collect as many Happy Points as possible. Those HP can be saved to your Animal Crossing amiibo, in order to unlock emotions and costumes (up to 5 for each character). But there's other ways to use your amiibo, and more precisely the Animal Crossing amiibo cards.
If you own Animal Crossing: Happy Home Designer, you can design a home there, save it on an amiibo card, and then have it appear in the board game of Animal Crossing: amiibo Festival. Finally, your Animal Crossing amiio cards can be used to play various mini-games, such as:
Quiz show (to test your Animal Crossing knowledge)
Balloon Island (pop as many balloons as you can and stick your landing)
Desert Island Escape (you have 7 days to construct a raft and escape safely)
Finally, here's some screenshots and some gameplay footage for the game:
Animal Crossing: amiibo Festival (Wii U) comes out on November 13th in North America, November 20th in Europe, and November 21st in Japan. Click here for more details about the bundle in Japan, Europe and North America!
Source: Nintendo PR