3D Power Drift: details about the changes and new features, screenshots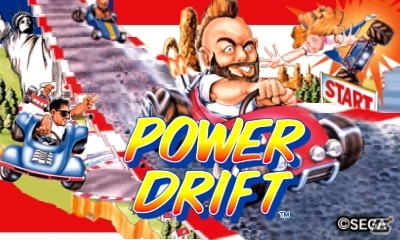 On Friday, SEGA opened the official website for 3D Power Drift (included in the SEGA 3D Classics Archives 2 collection, announced a few weeks ago). This allows us to get some details about the game, and more precisely the changes and new features of this SEGA 3D Classics title.
First, SEGA reveals that when the first SEGA 3D Classics Archives collection came out (last year), they put out a questionnaire. It turns out that Power Drift was the most requested by players, who really wanted the game to get a 3D Classics version.
The developers added the usual features of a SEGA 3D Classics:
3D visuals (obviously!)
moving arcade cabinet (giving the players the impression they're playing on an actual arcade machine. Moves with the movements of the player.)
you can now save at any time, and there's also a quick save feature (allowing you to quickly start playing where you left off last time, even in the middle of a race)
additional difficulty level: there's now 5 of them, including Very Easy (which wasn't available in the original)
But that's not all: the developers also added some rather neat features, such as a Replay (allowing you to check out only one course). For players who have a hard time changing gears, an automatic mode was added.
But that's not all: there's now 2 operation types for your car:
Type 1: 'handle assist', making it easier to stay in the centre of the course.
Type 2: no 'handle assist'.
Next, we have the various screen options:
4:3 (original)
widescreen (adapted to the Nintendo 3DS screens)
widescreen (full screen)
cabinet screen (when the moving cabinet option is activated, only the cabinet part is in 3D. The game's screen is in 2D).
And for sound/music, we have:
an equalizer: allows you  to change the level of BGM/Sound effects/Environmental sounds (the sound effects made by the arcade cabinet
a music player
SEGA also gives some details about the original game: there's 25 stages in total (not counting the extra stages), and one course consists of 5 tracks. Each one has 4 laps, and in order to get to the next one, you need to place at least 3rd (of course, you can use Continues to keep playing). If you place first at all 5 tracks of a stage, you will get to play a special track.
Here's the controls (which can be customised at will):
X = start
Y = acceleration
B = breaks
L+R = Change gear (you can chose "hold", "switch", or "automatic".
Finally, some good news for fans looking forward to import the collection: 3D Power Drift will also be playable in English, not just Japanese!
Here's some screenshots for 3D Power Drift:
Source: SEGA / Inside-Game
Thanks Ash for the help with translation!