Kirby: animated stickers on LINE, Planet Robobot theme on 3DS
Before Nintendo first launched Miitomo, back in March, the company was already using smart devices to promote its games and IPs (and get some extra money at the same time). It was done via the instant messaging app LINE (extremely popular in Japan), and more precisely the famous stickers.
It's been a while since the last set, but today, Nintendo finally released a new one worldwide.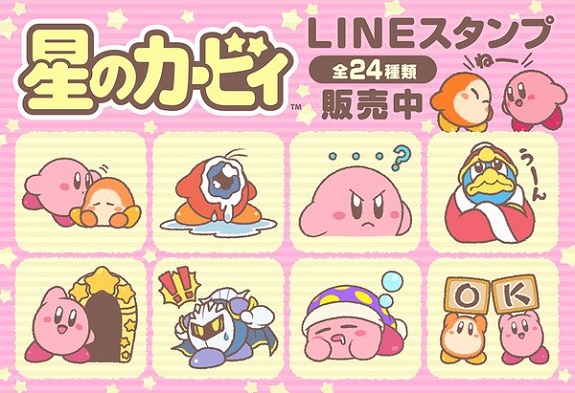 Since Kirby: Planet Robobot comes out today in Japan, this new set of stickers (which is animated!) is about Kirby. If you think your conversations need more pink puffballs, this is the set for you! This is a "global" Kirby set, and doesn't actually have any Kirby: Planet Robobot sticker at all. It does feature King Dedede, Meta Knight and some Waddle Dees, though.
You can check out a preview of the animated stickers (and purchase them if you're interested) on this page! Here's a non-animated picture:
This set of animated Kirby stickers costs:
100 coins
240 Yen
1.99€
£1.49
$1.99
But that's not all: Nintendo also released a brand new Nintendo 3DS Theme today in Japan, for Kirby: Planet Robobot. Here's a preview screenshot and video:
Hoshi no Kirby: Robobo Planet – Hasshin! (Nintendo): 200 Yen
Naturally, this Nintendo 3DS Theme will most definitely be released in Europe and North America sometime in June (the game itself is out on June 10th).
Kirby: Planet Robobot (3DS) comes out today in Japan, and on June 10th in Europe and North America.