Swords & Soldiers II: launch trailer and Daily Duel #17
Just like the first game (released on WiiWare), Swords & Soldiers II is a real-time strategy game. After over a year of waiting (it was originally announced back in February 2014, after all), the game is finally available on the Nintendo eShop. Whether you live in Europe or North America, it doesn't matter: you will find the game if you head to the Nintendo eShop right now!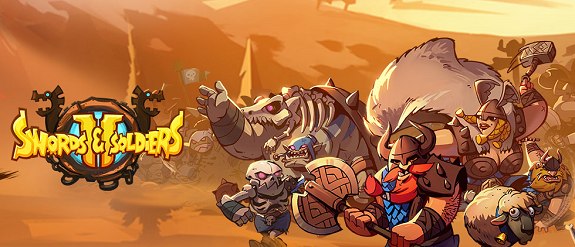 To celebrate this long-awaited launch, Ronimo Games uploaded the launch trailer for the game. It showcases the great artstyle of the game, but also the three factions of the game:
– the Vikings
– the Persians (brand new)
– the Demonic Horde
During the main adventure, there will be plenty of quests to tackle, but also some (challenging) bonus objectives. The game also includes a special mode, allowing you to create your very own army, as well as a local multiplayer mode (one player on the GamePad, the other on the TV screen).
Here is the launch trailer for Swords & Soldiers II:
And yesterday, Ronimo Games also uploaded the 17th (and probably last) Daily Duel for the game. This one pits 1 Siege Troll + 1 Barrelrider + 1 Naga against 3 Desert Stalkers + 5 Shamshir Soldiers + 4 Axethrowers + 1 Sand Witch + 1 Fakir.
Swords & Soldiers II (Wii U eShop) is now available in Europe and North America.
Source: Ronimo Games