SteamWorld Heist: new batch of SteamWorld Ambassadors, YouTube series incoming
SteamWorld Heist comes out later this year on Nintendo 3DS (then later on Wii U), but if you're interested, you can play the game before everyone else. To do so, you simply have to become a SteamWorld Ambassador. How to become one? Well, it's quite simple: you just need to win one of Image & Form's challenges!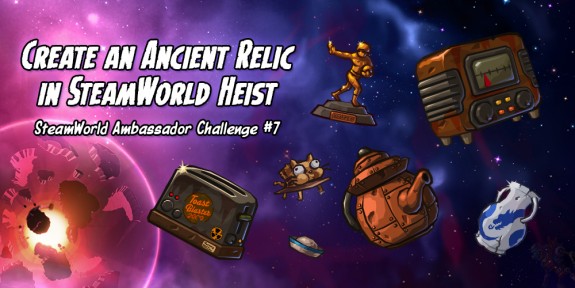 The SteamWorld Ambassador Challenge #7 tasked fans with creating Ancient Relics, which would then be added in the game. Just like all the previous challenges, the team at Image & Form had a lot of fun picking up the winning entries. The various entries also made them "think big" when it comes to the lore of SteamWorld Heist, and they promised that "the scope of Heist is much grander than compared to SteamWorld Dig" (including gameplay).
Here's the three winning entries, which will be added to SteamWorld Heist:
"Ström in a Can" (a can of fermented herring or "surströmming", a disgusting Swedish delicacy) by 
"The Ancient Steam" (electric iron)  gerb1977
"The Last Hamburger" (non-decomposing burger) by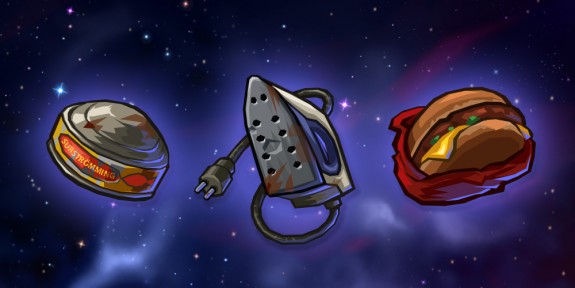 The winners will get:
– exclusive info before launch;
– download codes for the game (before launch).
Finally, Image & Form announced the SteamWorld YouTube series: a series of videos not unlike Nintendo Minute, with "Q & As, interviews with staff, let's plays, discussions, contests, announcements, fun randomness and other SteamWorld related content with the community in focus". The final name will be revealed at a later date, along with more details about the series itself.
Image & Form promise that the series will be "easy on the eyes, as well as entertaining and interesting", and in order to achieve this result, they "geared up with cameras, microphones, tripods and other video equipment to create a video series that is easy on the eyes, as well as entertaining and interesting."
Here's some teaser pictures:
SteamWorld Heist (3DS) comes out this Fall in Europe and North America. The Wii U version will follow at a later date.
Source: Image & Form