Splatoon: CoroCoro collaboration gear, Sheldon's Picks Vol. 2 coming this Summer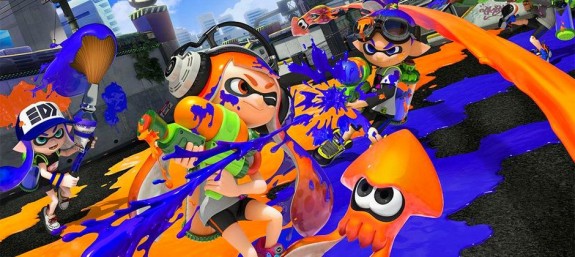 The latest issue of CoroCoro magazine comes out tomorrow, but thanks to the usual leaks, we will not have to wait for the magazine to be out before finding out about a scoop involving Splatoon. The magazine reveals that some CoroCoro collaboration gear is coming to Splatoon in the near future. To be more precise, there is two pieces of gears and a weapon.
Here's the details about them:
CoroCoro Splat Roller: features minor changes compared to the regular Splat Roller. The CoroCoro logo can be seen on it.
Sub Weapon: Splash Wall (Suction Bomb for the regular version)
Special Weapon: Inkzooka (Killer Wail for the regular version)
CoroCoro Cap: a special orange cap, featuring the CoroCoro logo. Main power: Damage Up.
CoroCoro Parker: a special orange parker, featuring the CoroCoro logo. Main power: Cold-Blooded (shortens the effect of weapons that let enemies determine your position)
Here's a scan showcasing these collaboration items:
The magazine explains that this new gear and that new weapon will be added to Splatoon this Summer. But what's interesting is that the magazine also specifies that the new Splat Roller will be part of the Sheldon's Picks Vol. 2, which means the update with that second selection of recommended weapons will also be released this Summer.
It's pretty much guaranteed that this update will be released sometime in Early July, as that's when the Marie and Callie amiibo are releasing (worldwide). Scanning those amiibo allows players to enjoy content/features not yet available in the game (including two new songs). In other words, Nintendo will need to add it via a Software update, which will most likely include the Sheldon's Picks Vol. 2.
No doubt we will get a proper announcement pretty soon, maybe even tomorrow (when CoroCoro magazine is officially available in stores). Right now, we don't know if the CoroCoro items will make it to the west or not.
Source: CoroCoro
Scan: Black@Game Aka
Via: GameMemo