Runbow and Tumblestone getting retail release in NA
Nighthawk Interactive is entering the "bring-eShop-games-to-retail" scene with Runbow for Nintendo 3DS and Tumblestone for Wii U.
First off, the Runbow Deluxe Edition supposedly hits Nintendo 3DS (UPDATE: and Wii U too, obviously) via a physical retail version on September 6, 2016 in North America only for now. This includes the recently released DLC. While there has been no official announcement from 13 AM Games, the Amazon product description reads as follows:
The Runbow Deluxe Edition includes the critically acclaimed Wii U party game with all the DLC. New DLC includes new levels, costumes/ characters, game modes and more! Runbow is a fast, frantic game for 1-9 players that will keep you running back for more. The world changes with each swipe of the background, so you'll have to stay on your toes as platforms and obstacles disappear. If you can't see something, it doesn't exist. Play with up to 9 friends locally or online. With hundreds of levels, dozens of costumes, and more indie guest characters than you can handle, you better get ready to Runbow!
Runbow has been quite successful, according to the developers, and its inclusion in the Humble Friends of Nintendo Bundle recently has livened up online multiplayer sessions a great deal.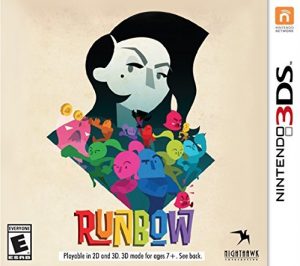 On Wii U, Nighthawk is releasing the competitive block puzzle game Tumblestone to retail stores on July 19, 2016 (according to Amazon). The Amazon product page is currently a little all over the place with it being tagged as an Xbox One release but showing a Wii U box art for the game. Stay tuned for an official announcement supposedly coming soon.