Return to PoPoLoCrois: release date for North America, new details, trailer and website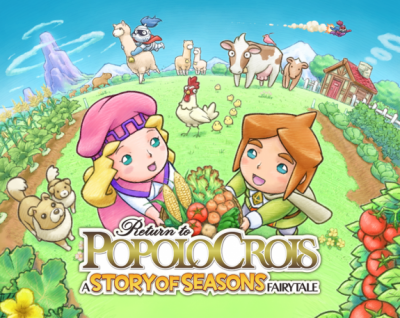 Yesterday, XSEED finally broke the silence and announced the release date for Return to PoPoLoCrois: A Story of Seasons Fairytale. The game will be released in North America on March 1st, and will be available on both the Nintendo eShop and at retail. As for Europe, we don't have a date just yet, but Marvelous Europe should make an announcement pretty soon!
To celebrate this announcement, XSEED revealed a brand trailer for the game. It showcases the story, battles, the main characters, the farming elements, materials collecting, quest, and more. It also allows us to get a preview of the English VA (the game will have both English and Japanese voices).
Here it is:
Also, XSEED opened the official website for Return to PoPoLoCrois: A Story of Seasons Fairytale: click here to check it out!
Story
This section introduces the story of the game. There's nothing really new in there, just a really neat artwork and some trivia:
PopoloCrois (PN): From the Italian word "popolo" (people) and the French word "croisé" (crossing), but pronounced phonetically (PO-po-lo-croyce).
Features
This section intoduces the various features of the game, such as the classic tactical turn-based RPG elements, the cutscenes (with in-engine animations), and more. There's also the farming elements, materials collecting, farming, and more. Most of those are atually optional, which means you can focus only on the story if you want.
The main story lasts around 25h, but you can also go and collect all 600 items in the game, and complete over 100 quests. There's also challenging optional dungeons, StreetPass (which allows you to "connect with other players and earn bonus items through treasure-hunting"), and more.
Also, XSEED reveals that Return to PoPoLoCrois: A Story of Seasons will actually have "Trual" Audio:
Japanese: traditional actors
Japanese: modern, "anime-like" actors
English
The game will let you fully customise the gameplay experience with:
encounter rate slider
difficulty levels
an option to add/remove a black border around characters
Head after the break for the rest of this post!
Characters
This section introduces some of the characters found in the game. You can even listen to VA samples for each of them!
World
This section allows you to discover two of the four regions regions of Galariland (where the game takes place):
wintry Urbain in the northwest
summery Zuzul in the northeast
(autumnal Cordan in the southwest)
(vernal Galaris in the southeast)
Gameplay
This section takes a look at the various gameplay systems:
Advancing the story: thanks to the "Hint" button on the bottom screen, you can get hints as to what to do next, in case you're not sure how to progress through the story.
Fighting battles: battles takes place on a small tactical grid, with various obstacles. You have to find the right position for your characters, as each attack has a specific range and area-of-effect. You can turn down the encounter rate at any time if you want to avoid fighting.
Raising crops: you can harvest dozens of unique crops in one of the 5 farms located throughout Galariland. Everything grows in real time, which means you can go and do something else in the mean time. You don't have to worry about your crops: you will get notifications on the top screen, telling you when to come back to the farm. The best thing? You can teleport back to the farm instantly!
Tending animals: you can also adopt various animals, and keep them in your farm: there's "cuckotti" (chickens), "sumoo" (cows), "pacapaca" (alpacas), and more. If you take good care of them, they'll reward you with eggs, milk, and more, from time to time.
Saving the farmland: the fields of Galariland have been corrupted by black beasts, and you have to get rid of that corruption. But in order to do so, you have to shrink down to the size of ants using magic, and then kill the black beasts to restore the natural balance of life. There's dozens of such fields in the game, along with some optional fields.
Taking side-quests: the game has a lot of sidequests (over 100), given to you by NPC. Not all of them are fetch quests and monsters hunts: there's also Chicken rescues, robot emotion coaching, creative item synthesis, shady spy missions, and more. Make sure you interact with as many people as possible!
Synthesizing items: you can combine two (then three) items thanks to a special machine, in order to get another item. There's two ways to get recipes: you find them in the game, or you get one by successfully combining two items. There's a total of over 600 different items in the game.
Quarrying ore: once you get a hammer, you will be able to get precious gems and minerals from certain rocks. You can then use them either for profit (by selling them), or for synthesizing. You can go back to the rocks after a while, in order to get more precious gems and minerals from them.
Catching bugs: you can catch bugs from flower fields, and then bring them to an old man for prizes and money. Bugs will come back to the fields after a while.
Making friends: throughout Galariland, you will find girls who have been blessed by Lady Galariel. If you befriend them (by talking to them, giving them gifts, and talking to them), their blessing will carry over to you and your farms.
Interacting with the community: thanks to StreetPass, you can get treasure maps from other players. Those lead to all kinds of goodies.
Multimedia
The multimedia section has all the trailers available, but also some wallpapers and Twitter icons!
Manga
The original PoPoLoCrois manga, which originally debuted in late 1978, has been translated in English and is available in the manga section!
Return to PoPoLoCrois: A Story of Seasons Fairytale (3DS) comes out on March 1st in North America, and in Q1 2016 in Europe.