Project X Zone 2: Brave New World coming soon to the Nintendo 3DS?
Project X Zone is a rather unique cross-over on Nintendo 3DS, with over 200 characters from Bandai-Namco, SEGA and Capcom. It's a tactical-RPG, with a battle system called "Cross Active Battle System" allowing you to use the A button and the Circle Pad to launch attacks.
The game was moderately successful in Japan, and in the West, Project X Zone, seems to have done pretty well too. In fact, it totally blew up Bandai-Namco's expectations, as the game sold over 10 times what the company was expecting for it (even though no concrete numbers was ever given for it).
Anyway, Project X Zone seems to have been successful enough for Bandai-Namco to greenlight a sequel, called Project X Zone 2: Brave New World. No public announcement has been made yet, but the game was apparently mentionned during a press conference in Italy. A website reported about it, but the page was later edited.
Here's a screencap of the article before the edit: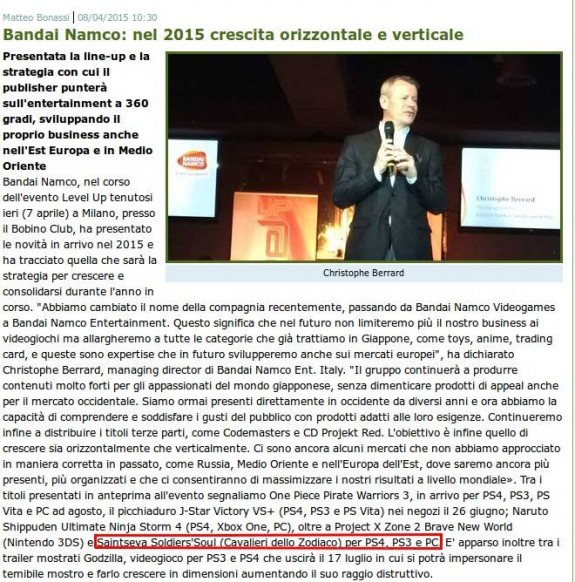 One of the games mentionned in the article, Saint Seiya: Soldier's Soul, was actually announced a few minutes ago right after the broadcast of the first episode of Saint Seiya: Soul of Gold (the new animated series). Therefore, Project X Zone: Brave New World is most likely the real deal, though it's best to wait for an official announcement before celebrating!
Project X Zone 2: Brave New World should come out on Nintendo 3DS.