Pokémon news (Jan. 19) – Pokémon Shuffle; Virtual Console details
Pokémon Shuffle
Today, a brand new update for Pokémon Shuffle went live (Ver. 1.3.0): you can get it using the in-game check-in feature. In doing so, you will get access to some new content, such as:
a total of 43 brand new stages
re-run of the Pokémon Safari, with Cherubi, Cherrim, Carvanha, Sharpedo, and Spinda. It runs until February 2nd.
a Great Challenge featuring Zekrom. It runs until February 2nd.
Source: Serebii
Pokémon Virtual Console
Thanks to the online manual of the Pokémon Blue / Red / (Green) / Yellow game on the Virtual Console, we have some additional details about those games. They will be slightly different from other Virtual Consoles titles, as they will not have either:
Restore Points
save data back-up
If those two features have been disabled, it's most definitely to prevent infinite cloning of rare Pokémon. After all, all you would have to do is make a Restore Point just before a trade, do the trade, and then reload the Restore Point to get your Pokémon "back".
Also, the manual confirms that the Virtual Console Menu and the Home Menu of the Nintendo 3DS cannot be accessed when using the Battle or Trade features. But that's not all: we also learn that the Cable Club has been modified. When you go there, a menu will pop up on the touchscreen, with two options:
Connect to a friend (to invite a friend to connect with you)
Search for a friend (to look for friends to connect with)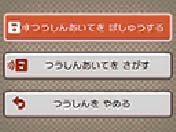 Source: Serebii
Pokémon distribution
If you live in Australia or New Zealand, you can now get Hoopa by going to a JB Hi-Fi (AU/NZ), EB Games (AU/NZ) and Big W (AU) in Australia and ask for a serial code. You have until January 29th to get yours, and use with Pokémon X, Y, Omega Ruby, or Alpha Sapphire.
Source: Serebii
Pokémon Scrap
Pokémon Scrap is a special promotional campaign, allowing fans to get various presents by entering serial codes on the official website. Today, the amount of serial codes needed for each present has been revealed:
Shiny Eevee: 1 code
Articuno: 4 codes
5 Rare Candies: 8 codes
Zapdose: 12 codes
Moltres: 16 codes
Masterball: 20 codes