Nintendo x Vans: shoes releasing this Friday, apparel and accessories also coming
Update
Some of the Nitnendo x Vans shoes, t-shirts, apparel, and accessories are now available on Amazon:
NB: affiliate links (click here to learn more)
***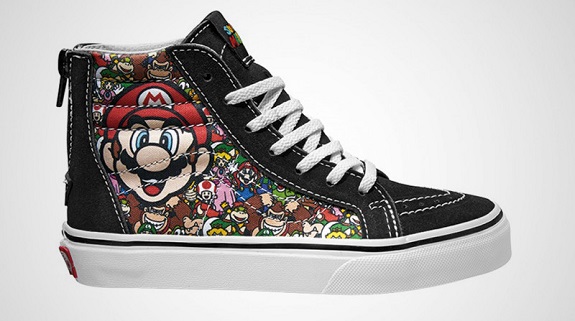 A few weeks ago, we got our first sneak peek at the Nintendo x Vans shoes coming out soon. Today, in a press release, the two companies announced that the Nintendo collection of Vans shoes would be launched on June 3rd in the United States and Europe… that's this Friday! In the rest of the world, it will be available later this month, at select retailers.
Here's some of the models launching
Tie-Dye (Authentic): all-over character print of Mario, power-ups, and Goomba, over an 8-bit tie-dye pattern;
Princess Peach (Authentic);
Duck Hunt (Authentic): digi-camo backdrop featuring the hunting dog and flying duck;
Donkey Kong (Authentic): imagery from the level, and a unique floral arrangement;
The Legend of Zelda (Classic Slip-On): graphics and quotes from The Legend of Zelda;
NES (Sk8-Hi, Old Skool and Sk8-Hi Slim for women): prints and colors inspired by the NES;
Mario Kart (Sk8-Hi Zip, Classic Slip-on and Authentic): for kids
Super Mario (Sk8-Hi Zip, Classic Slip-on and Authentic): for kids
and more…
Worried about the size? The shoes will be available in various sizes, from toddles and kids to adult, including both women and men.
What's more, the press release reveals that besides the footwear, some Nintendo x Vans apparel and accessories will be released: co-branded tees, backpacks, bags, socks, and hats. Those will come in prints that tie back to the shoes.
Here's some pictures of the apparel and accessories:
Source: Nintendo PR / Vans