Nintendo Investor Briefing (Feb. 2018) – Kimishima on the Nintendo 3DS (sales, future prospects)
During the latest Nintendo Investor Briefing, Tatsumi Kimishima talked about the Nintendo 3DS, and more precisely its sales and future prospects.
First, a graph was shown, comparing Nintendo 3DS Hardware sales during the past Fiscal Year. Sales in 2017 were clearly down, but they didn't drop off a cliff following the release of the Nintendo Switch. In fact, the handheld kept selling rather steadily, with the usual bump in sales during the handheld's 7th holiday season.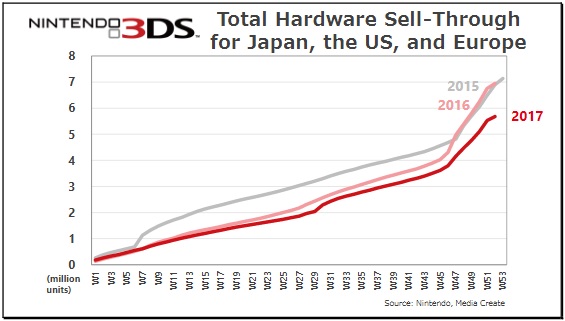 Unfortunately, Software sales were also down in 2017 compared to 2016, but that was to be expected with the launch of Pokémon Sun and Moon in 2016. At least, sales are up compared to 2015, in Europe and North America at least.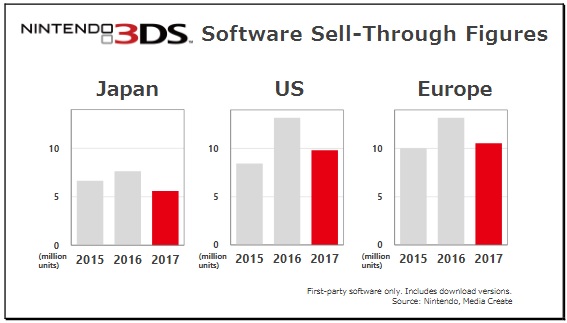 During the meeting, Tatsumi Kimishima reiterated that the Nintendo 3DS isn't going anywhere. Since its characteristics, price points, and play styles differ from the Nintendo Switch, Nintendo is going to keep its business running in parallel. After all, it would be a shame not to try and take advantage of its huge installed base and rich line-up.
And the thing is, Nintendo 3DS games are not quite done selling yet. Here's shipment data for key titles during Q3 of the current Fiscal Year (October to December):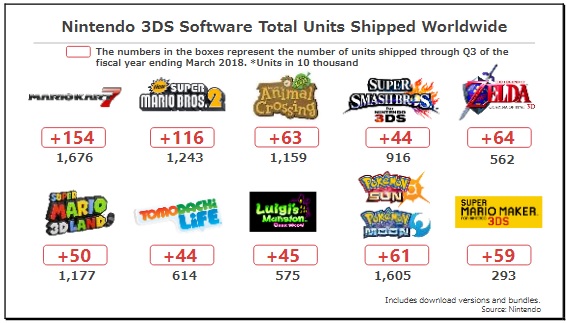 As you can see, even games that were released many years ago had significant shipments, such as Mario Kart 7 for example.
Next, a graph that shows sales of first-party games in 2017, and more precisely the % of games released before and during 2017. In Japan, the majority of 1st-party games sold in 2017 were released during that year, but in Europe and North America, it's games released prior to 2017 that sold the most and by a healthy margin.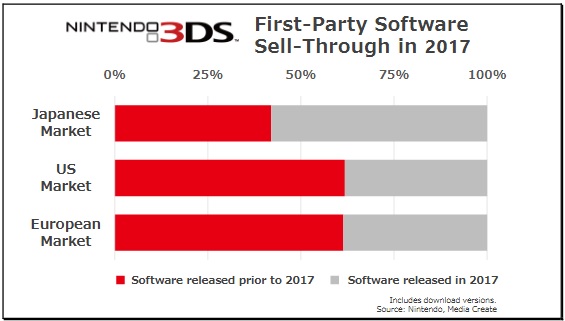 During its lifetime, the Nintendo 3DS saw the release of many quality titles, and ended up with an "incredibly" strong line-up. And it's definitely something Nintendo is planning to leverage in order to drive sales with Nintendo 3DS owners (including those that only recently purchased one).
Of course, Nintendo still has new games up its sleeve, but the focus is clearly on the existing line-up. Not surprising: all efforts are focused on the Nintendo Switch now!
Since it's pretty affordable, the handheld is perfectly suited to be the first dedicated game console for children. It's also great for players looking for a game console on the cheap. And it's on those two types of players that Nintendo is planning to focus its effort moving forward.
Source: Nintendo