Nintendo Investor Briefing: 10.5 million amiibo shipped, production increase and more
Obviously, amiibo is one topic that Satoru Iwata was guaranteed to tackle during the usual Financial Results Briefing with investors, this morning. First, he revealed that roughly 10.5 million amiibo were shipped since their launch back in November. Since Nintendo shipped 5.7 million units by the end of 2014, that means that 4.8 million amiibo were shipped to retailers during the first three months of 2015.
This clearly shows that sales remained strong (with shortages being commonplace) even after the holidays period. For Nintendo, this lack of "seasonal bias" from consumer is due to the "low" price of amiibo, which are much more affordable than games. Therefore, consumers are much more likely to buy them regularly (sometimes on a whim), which is why sales have remained strong during the first half of 2015.
Satoru Iwata also mentionned consumers being inconvenienced by stock shortages, and reiterated that production has already been increased for figures required to unlock content in games (and/or with strong demand from retailers). Unfortunately, Nintendo can't say exactly when shortages will end, due to the time required to manufacture and ship the amiibo. What's more, store shelf is limited and it's not that easy to predict overall demand for every figurine.
As for the number of compatible games, it has been increasing in the past few months. This led to more recognition and understanding from consumers, which is why Satoru Iwata is expecting further growth for amiibo sales.
Then, Satoru Iwata showed the following pie graph, with the shipment breakdown for amiibo: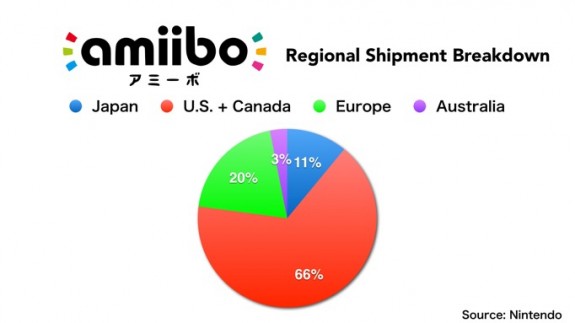 Finally, Satoru Iwata mentions the new type of amiibo to be released this year: the Yoshi's Woolly World amiibo, and the cards. The first game to be compatible with those is Animal Crossing: Happy Home Designer on the Nintendo 3DS. They will launch alonside the NFC Adapter for Nintendo 3DS, allowing players using a Nintendo 3DS / XL / 2DS to use amiibo. It will significantly increase the amount of amiibo-compatible device, which is why Satoru Iwata expects further growth for amiibo sales.
Source: Nintendo