[Update: promo video] Nintendo Classic Mini: NES announced, out on November 11th in EU/NA
Update: here's a promotional video for the Nintendo Classic Mini: NES!
It's also available for pre-order on Amazon (UK / FR (console / controller) / IT) [NB: affiliate links]
***
Today, Nintendo had a pretty surprising announcement to make, that doesn't even involve any of its current platforms. Indeed, what Nintendo announced is the Nintendo Classic Mini: NES (or Nintendo Classic Mini: Nintendo Entertainment System is you want the full name!), which will be released on November 11th in Europe and North America (November 12th in France). It will cost $59.99.
The Nintendo Classic Mini: NES is a near-identical, mini replica of Nintendo's original home console. You plug it directly to your TV via HDMI, and you can play the following 30 built-in classics: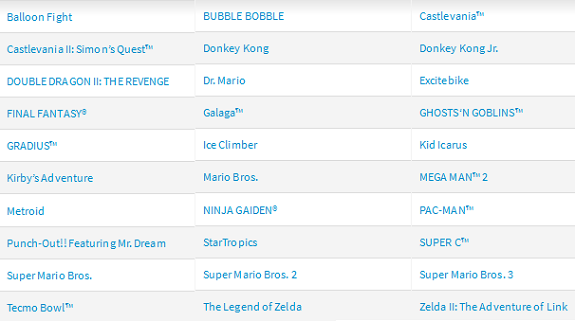 Each game has multiple suspend points, allowing you to stop playing whenever you want.
The Nintendo Classic Mini: NES package includes:
the console itself
a HDMI cable
an AC adapter (only in North America)
a NES Classic Controller, which will also be sold separately ($9.99).
30 built-in games (see list above)
About the NES Classic Controller: it can also be used to play NES games on the Wii U and Wii Virtual Console (by connecting it to a Wii Remote). Alternatively, you can play games on the NES Classic using a Classic Controller or Classic Controller Pro.
Here's some pictures of the Nintendo Classic Mini: NES console:
Since the console itself is called "Nintendo Classic Mini", this most likely means Nintendo is planning to launch similar devices for other consoles (GameBoy, SNES, Nintendo 64?). Obviously, we will have to wait a little while before getting any sort of announcement!
And in case you're wondering: the Nintendo Classic Mini: NES will not go online (so no extra games to be downloaded, no Miiverse, no online features). Also, games will not be added to your Nintendo Account / Nintendo Network ID either. This is truly a plug-and-play console!
Our Upcoming Releases page has been updated!
Source: Nintendo PR / Nintendo