Nintendo Accounts launched in Japan, special promotion
During the latest meeting with investors, back in October, Nintendo gave plenty of details about its new membership service (My Nintendo) and its new account system (Nintendo Account). It was announced that the membership service would launch sometime in March, but we didn't know when the account system would be. Most assumed it would be available at the same time as My Nintendo… but it turns out they were wrong!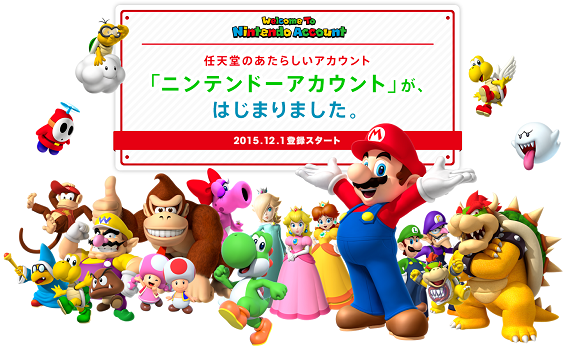 Indeed, the Nintendo Accounts were launched just a few minutes ago in Japan: if you know Japanese, you can check out this page! You technically don't need a Japanese Nintendo Network ID, but you do need to link it to your account if you want to access some features (like being able to buy games directly from Nintendo's website).
Please note that a European or North American Nintendo Network ID will not work. You will have to wait for the membership service to be launched in Europe and North America!
To log in, you can use:
your Nintendo Network ID
your social network account (Facebook, Twitter)
no account
You can register an account from your web browser (dekstop, mobile), and you don't need a Wii U or Nintendo 3DS console to do it. If you register with a Nintendo Network ID, the system will automatically fetch all relevant details. But even if you don't, you can change your nickname at any time after the creation of the account… let's just hope it stays that way for as long as possible.
If you link your Nintendo Account to your Japanese Nintendo Network ID, you can get 100 Yen back for every 1 000 Yen added to your account on the Nintendo eShop. This offer is available until February 1st, and is calculated by "days". This means you need to add 1 000 Yen on the same day: you will not get anything if you add 500 Yen one day, and 700 Yen the next one (for example).
Also, you cannot add more than 10 000 Yen on a given day: you will not get more money back (in other words, you can only get up to 1 000 Yen back each day). The money will be sent to you via email as a code (roughly a week later), so make sure to check out the email address you used for your Nintendo Account (or Nintendo Network ID if you linked it).
There's another restriction: the money you get via this offer does not count toward your next "coupon".
Nintendo also updated its official website. Besides the obvious design changes, the website can now be used to purchase games, and have them downloaded to your consoles automatically. What's more, there's now an official blog called "Topics", where Nintendo will make announcements from now on. The website now has a "Notification" tab, which shows you news and alerts regarding games you're interested in. Finally, there's a section with personalised discounts, which is currently empty.
Here's a screencap of your purchase history, accessible online, and the login page:
And here's the Nintendo Account page, translated by Cheesemeister:
Stay tuned for more details!