Monster Hunter X: trailer, opening, commercials, collabs. demo, digital pre-order, more
Trailer and Opening Movie
This morning, Capcom revealed the third trailer for Monster Hunter X, as well as the Opening Movie.
Here's the third trailer:
Head after the break for the Opening Movie, and the rest of the post (demo version, TV Commercials, and more!)
Demo version
Capcom announced that Monster Hunter X would get a demo version in Japan, available from November 19th on the Nintendo eShop. It will allow players to try out all types of weapons and Hunting Styles, with three quests available:
Nargacuga
Hororo-Horuru
Dosu Maccau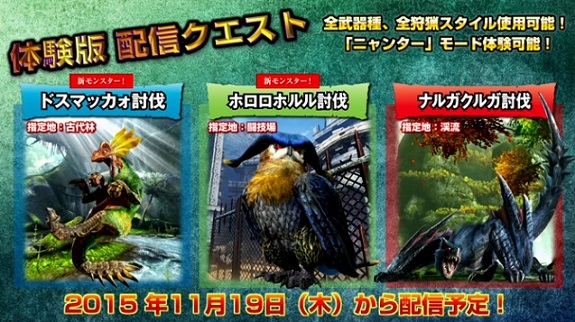 Source: 4Gamer.net
Collaborations
Capcom announced several collaborations for Monster Hunter X:
The Legend of Zelda: The Wind Waker HD
Players will be able to get a special armor based on Link, from The Legend of Zelda: The Wind Waker HD. It comes with the Cat Waker, a special weapon based on the Wind Waker. To get those, you will first need to clear a special Event Quest, in order to get the materials necessary to craft the weapon and the armor.
This collaboration will allow players to get:
the special armor and weapon
a special Guild Card
a special title
a Palico
It will be available from December 1st (9AM JST) to January 5th (8.59AM JST) via the 7-Eleven stores Wi-fi hotspots.
Here's a trailer and some pictures:
Nanako X
Players will be able to get this special Palico via the 7-Eleven stores Wi-fi hotspots from January 12th (9AM JST) to February 9th (8.59AM JST).
Macross Δ
A special armour and weapon inspired by Macross Δ will be distributed in Monster Hunter X. More details about the distribution will be revealed at a later date. In the mean time, here's a trailer and some pictures:
Source: 4Gamer.net
Digital pre-order and bonus themes
Starting today, players can pre-order the digital version of Monster Hunter X on the Japanese Nintendo eShop. In doing so, they will be able to start playing on November 28th at midnight, by pre-loading it. Of course, they will need to download some data at midnight for the game to be unlocked, by launching it while being connected to the internet.
Pre-ordering the game (digital version or retail) will net players two Nintendo 3DS Themes. When pre-ordering, they will get a special code to enter on the Monster Hunter Fan Club website, in order to get the download code for the two themes. The code has to be redeemed before December 25th, and the Nintendo 3DS themes have to be redeemed before May 31st. The themes will be available for purchase/download from November 28th.
TV Commercials
To promote Monster Hunter X, Capcom has prepared a lot of Web and TV commercials for it, which will begin airing across Japan on Saturday (November 14th). They introduce the main elements of the game, such as the four main monsters, the various Hunting Styles and Weapons, and more.
They feature:
Daigo
Matsuoka Mayu
Satoshi Inoue
Sometani Shouta
Takei Sou
Since there's a lot of commercials, we put them all in a single play list on YouTube, so we don't crash your browser with over 10 YouTube embeds on the same page!
Here's the commercials:
Here's a special message from the celebrities appearing the commercials:
https://youtu.be/sQ93uPT_qs8?list=PL7dNZesklPc7k8AT510MEcdSawPvUQBtA
Monster Hunter Festa 16
This morning, Capcom announced the dates for the Monster Hunter Festa '16 (special events dedicated to fans of the franchise). As usual, there will be tournaments, stage events, exhibitions, illustration contests, and more.
Here's the dates:
Tokyo: January 10th
Osaka: January 31st
Fukuoka: February 7th
Naogya: February 14th
Sendai: February 21st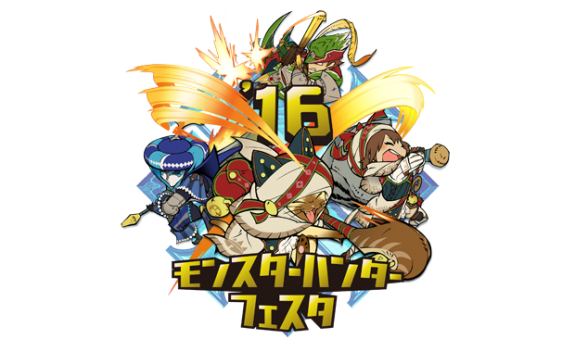 Source: Capcom