Monster Hunter Stories: official website open, lots of details and screens/artworks
Today, Capcom finally opened the official website for Monster Hunter Stories, which can be found there. We finally get some details and proper screenshots/artworks for the game, which is a turn-based RPG taking place within the Monster Hunter universe.
Story
In Monster Hunter Stories, you get to play as a young hero from Rider Village, who has become a Rider after passing the trial and receiving a Kizuna Stone from the villager leader. After that, he/she decides to go explore the world with Nabiru (their partner, who passed the trial with them).
Unfortunately, something terrible is approching, and the inhabitants start realising something is not right. Therefore, those who have been chosen as Riders and Hunters are put to the test. Apparently, the key of the story lies in the Kizuna Stones, and the power within it, which is apparently tied to an ancient legend.
Characters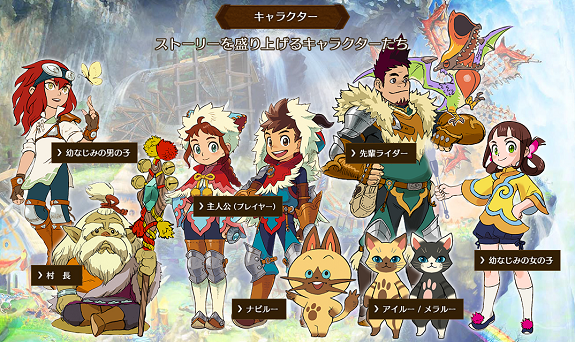 In Monster Hunter Stories, you can chose the gender of the character you will play as (Male or Female). The protagonist was born and raised in Rider Village, and long to explore the world as a Rider. He/She is said to be bright, full of vigor and curiosity.
Here's some of the key characters of the game:
Nabiru: a rather peculiar Felyne. The protagonist's partner;
Senpai Rider: a hot-blodded but kind-hearted Rider, who is like a mentor to the protagonist. He gives some very useful to him/her, in order to help them become a Rider.
Childhood friend (Girl): a very bright and lively girl, full of vigor and curiosity (just like the protagonist, that she always pull along with her friends);
Childhood friend (Boy): a kind and mature boy, who also aims to become a Rider;
Village Mayor: a mischievous old man, who always crack some puns. He's the Elder of the Dragon Tribe, who watches after the people of the village (including the protagonist);
Felyne and Melynx: two Lynian monsters, who understand human language and can communicate with them. They are said to have a connection with humans.
World
On the official website, Capcom also give some details about some of the areas of the game:
Hunter Village: a town by the sea, where Hunters live. There, you can find various buildings, markets and facilities, including the Guild (ran by a Guild Master).
Starter Field: a plain full of greenery, where some strange ruins can be found. There's also a rugged valley, which is home to some rather large monsters.
The website also shows various other areas, that you can see in the artworks below:
The developers promise that Monster Hunter Stories will feature many areas that have never been depicted in the series until now.
Battle System
In Monster Hunter Stories, battles are turn-based, with three command options:
In order to win battles, you have to pay attention to the monsters: they all have some habits, so by reading their movements you can tell which command to use. In the interview, the developers explain that this is not a game of luck: for example, the Velociprey likes to Speed. In order to perform well in battle, you really have to pay attention and learn the habits of each monster.
You also have to take into account the type of weapon used, as your attacks change depending on which one you're using. For example, Large Swords come with the Nagiharai special skill, while one-handed swords come with Shield Bash.
Next, we have Otomons: those are friendly monsters you can befriend as a Rider. They act on their own, but if the right conditions are met, you can perform a cooperation attack together. Once your bond is deep enough, you can use a "Ride On" technique, which greatly increase the abilities of the monsters. Finally, the Kizuna Stone allows you to use Bond Techniques, which vary depending on the monster.
Talking about Otomons, you can find various eggs while exploring: if you bring them back to Rider Village, they will hatch and you will be able to raise them. The kind of monsters found in the eggs depend on where you found them. They have their own abilities, and some of them allow you to explore various areas
Famitsu interview
In the interview, the developers explain that there are plenty of people interested in the Monster Hunter universe, which is why they started thinking about making a RPG about 5 of 6 years ago. As for development proper, it started 2 years ago.
In Monster Hunter Stories, the focus will be on the monsters themselves, as many people love them according to the developers. They really want as many people as possible to enjoy the game, which is why they went with very familiar visuals and a rather light-hearted story (not too serious).
As for the battle system, we learn that the protagonist can have a party with multiple monsters, though in battle, they can only have one monster at their side. Of course, you can change which monster fight with you, which is pretty important: after all, it's the monsters who do most of the work during battles. The protagonist mostly plays a support role.
Finally, the developers talk about the difference between Hunters (who hunt monsters) and Riders (who form bonds with them). The deep story of Monster Hunter Stories will be told from the point of view of those two opposing groups.
Here's some screencaps from the official website:
Monster Hunter Stores (3DS) comes out next year in Japan.
Source: Capcom / Famitsu
Via: Gematsu