Mei Tantei Pikachu (Detective Pikachu) revealed for the Nintendo 3DS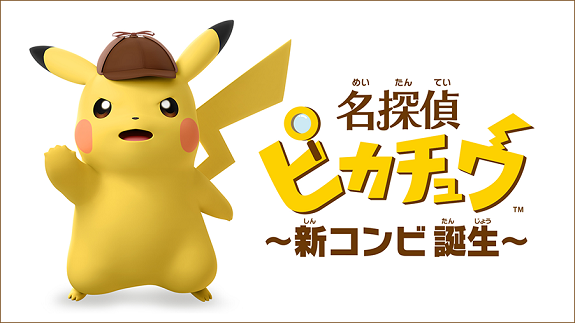 A few years, in a TV program, Tsunekazu Ishihara (CEO of The Pokémon Company) showed a brand new Pokémon game he was working on. It's quite unlike other Pokémon games, as it features a talking Pikachu who also happens to be a detective. Since then, the game was not mentioned even once, which led many to wonder if it had not been delayed or outright cancelled (it was supposed to come out in Summer 2015 after all).
Today, the game was officially revealed via a trailer uploaded on YouTube. It's called "Mei Tantei Pikachu ~Shin Konbi Tanjou~ (lit. Detective Pikachu ~The Birth of a Duo~), which is the title we're going to use until the official English title is revealed. As the title implies, it's a detective game starring Pikachu, and a young boy named Tim Goodman. It takes place in Rhyme City.
The trailer below shows a little bit of fotage with cutscenes. In this game, Pikachu will be quite talkative, with some really neat facial animation. In the TV program where we first learned about the game, a big deal was made about Pikachu's facial animations, and the end result is certainly impressive. That, and the fact he's talking does give a lot of personality to this Pikachu.
Here's the first trailer and artworks for Mei Tantei Pikachu ~Shin Konbi Tanjou~, described as a "Cinematic Adventure" game:
https://www.youtube.com/watch?v=Y9j9RWkPstc&feature=youtu.be
Mei Tantei Pikachu ~Shin Konbi Tanjou~ will be released next week in Japan (on February 3rd), where it will cost 1 200 Yen from January 27th (tomorrow) to February 29th. After that, it will cost 1 500 Yen. It will be available for pre-purchase tomorrow, and requires 800MB (6 400 blocks) of free space on your SD Card. It supports only one player, and doesn't have 3D visuals.
Unfortunately, no release outside Japan has been announced so far.
Source: The Pokémon Company