Medabots 9 (3DS) announced in Famitsu magazine
A few minutes ago, Famitsu posted its usual batch of previews for its latest issue. This time around, there's a surprise for fans of the Medabots series: Rocket Company is working on Medabots 9, which is announced for the Nintendo 3DS! Just like the previous games on Nintendo's handheld, Medabots 9 will have two separate versions: Kabuto and Kuwagata.
In this week's issue, Famitsu will introduce the game, and provide details about the new protagonist and main characters, but also gameplay. Apparently, the game will have 3 vs. 3 battles. Unfortunately, we will have to wait until the magazine is out before getting those details… unless we get some leaks before that.
Here's the preview from Famitsu magazine: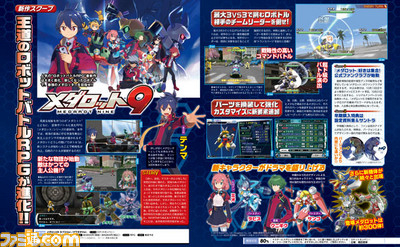 Medabots 9: Kabuto ver. / Kuwagata ver. (3DS) will most likely come out next year in Japan.
Source: Famitsu