Mario & Luigi: Paper Jam Bros. out on December 4th in Europe
Update
Here's the final boxart for Mario & Luigi: Paper Jam Bros. in Europe:
***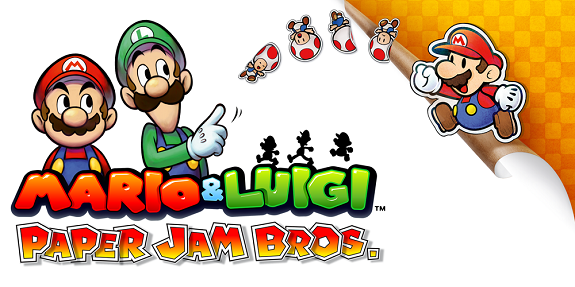 This morning, Nintendo of Europe made a rather surprising announcement (completely out of the blue) for Mario & Luigi: Paper Jam Bros.. The game was originally supposed to come out next year in Europe (in Spring to be more precise), but it will now be released on December 4th! From Spring 2016 to December 4th 2015… that's quite the change!
On its website, Nintendo gives some more details about the game. As mentioned previously, the worlds of Mario & Luigi and Paper Mario collide in this  5th instalment of the Mario & Luigi series. Paper Mario will have to form a full-fledged Dream Team with Mario and Luigi, in order to get rid of not one, but two Bowsers! Indeed, it's not just Paper Mario who made the trip to the Mushroom Kingdom, Paper Bowser did too!
All this is caused by Luigi, who finds a mysterious book in Peach's castle and decides to open it. Unfortunately for him, the Paper Mario universe starts pouring out of it, causing a great incident. And as you can imagine, Mario & Luigi will have to do everything in their power to make sure the Paper Mario characters can go back in their original world.
Having Paper Mario in the team will totally change the way you explore, solve puzzle and even defeat enemies. Since the duo is now a trio, you will be able to use brand new Trio Attacks. As for Paper Mario, he can make copies of himself in order to boost his attack power. He also has special skills that can be used outside battles: for example, he can fold himself and slip through tiny cracks.
Finally, another new gameplay system of Mario & Luigi: Paper Jam Bros. are the Paper Craft Battles, which are rhythm-based events during which you will have to get rid of Bowser's forces using a giant papercraft.
Here's some brand new artworks for the game… after the break!
Mario & Luigi: Paper Jam Bros. (3DS) will come out on December 3rd in Japan, December 4th in Europe, December 10th in Australia, and next year in North America.
Source: Nintendo