The Legend of Zelda: three orchestral concerts for the 30th Anniversary in Japan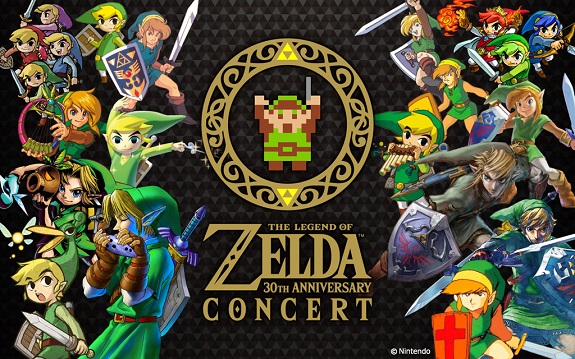 This year, The Legend of Zelda celebrates its 30th Anniversary (yes, it's already been 5 years since the 25th Anniversary!), and unfortunately, there will not be a big console game as part of the celebrations. That being said, that doesn't mean Nintendo isn't going to do anything in order to celebrate the anniversary of one of its longest-running, most popular and beloved franchises.
Today, Nintendo announced that there would be not one, but three different orchestral concerts in Japan.
During those, orchestral arrangements of the Zelda series music will be played, along with special visuals on a screen (similar to the Legend of Zelda: Symphony of the Goddesses concerts, it seems). It looks like there will also be a special guest: "that person", most likely referring to Shigeru Miyamoto or Eiji Aonuma. Also, special merchandise will be sold at the venue of each concert.
Here's artwork for the concerts:
The concerts will take place on the following days, at the following times:
Kyoto (where the Nintendo HQ are located): October 1st at 5PM JST (doors open at 4.15PM), at the ROHM Theatre Kyoto;
Tokyo: October 16th at 1.30PM (doors open at 1PM) and at 6PM (doors open at 5.30PM) [two performances], at the Tokyo Metropolitan Theatre;
Nagoya: December 14th at 7PM (doors open at 6.15PM), at the NGK Spark Club Co. Ltd Civic Center Forest Hall.
Taizo Takemoto will be the conductor for all three concerts, though the orchestra will not be the same:
Kyoto Philharmonic Chamber Orchestra (Kyoto)
Tokyo Philharmonic Orchestra (Tokyo)
Central Aichi Symphonic Orchestra (Nagoya)
A special ticket will be sold (called Master Seat), which includes the ticket itself (with an original design), but also a set of exclusive set of pins. Here's the price for each type of ticket:
Master Seat: 12 000 Yen
S Seat: 9 000 Yen
A Seat: 7 500 Yen
Sales for the Kyoto and Tokyo concerts will go on sale on July 30th, and September 3rd in Nagoya. There will also be a pre-sale from June 30th (today), via a lottery.
Source: 4Gamer.net