Indie news (May 10) – Humble Friends of Nintendo Bundle / Dex / Brave Dungeon
Today's Indie news:
Humble Friends of Nintendo Bundle
Dex
Brave Dungeon
Zoo Match
Booty Diver
Humble Friends of Nintendo Bundle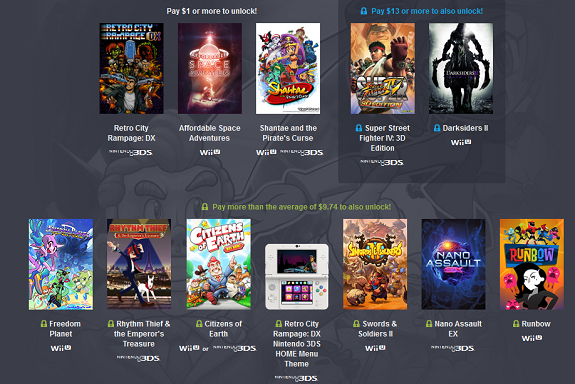 If you're interested in the Humble Friends of Nintendo Bundle, you still have a couple of hours left to buy it.
Since its launch, two weeks ago, it was bought over 150 000 times, and generated over 1.5 million in sales… a real success! If you're interested in knowing more about how this project came to be, why not check out NintendoLife's interview with the indie developers who took part in it? Click here to check it out!
Dex
Here's the latest trailer for Dex:
Unfortunately, we still don't know when the Wii U will be launched (but we do know it is still coming).
Head after the break for the rest of this post!
Brave Dungeon
Here's some gameplay footage for Brave Dungeon, announced last week (it will be released later this year in Japan):
Source: NAN-A
Zoo Match
Earlier today, RCMADIAX announced a new game: Zoo Match, a game where you have to match cards by image, sound, or spelling. Unfortunately, that's all we know about the game so far, other than it should be released sometime in Q3 2016.
Our Upcoming Releases page has been updated with this new game.
Booty Diver
Yesterday, Xavier Orion posted an update regarding the Wii U version of Booty Diver. He explains that he held on his devkit as long as possible, in order to test the final version of the game. Despite all the changes made for the PC version, the game actually runs pretty well. Unfortunately, there's a problem: some of the levels are too big, and can cause slowdowns.
He ended up finding three possible solutions:
A) Leave it as is ,and deal with it considering its only 5 levels in the game that are effected.
B) Completely remove the levels making the game slightly shorter ,and charge a little less compared to the PC version.
C) Almost completely rebuild the levels to be smaller. Even though the idea of the game was that as you progressed through each "world" the levels would get larger.
In other words, before the Wii U version is released, the developer needs to make a decision regarding the levels, do more testing thanks to an outside developer, and then send the game to Nintendo for lotcheck.