Hatsune Miku: Project Mirai DX delayed to September in the West, launch edition in North America
For many, the writing was on the wall, as SEGA remained completely silent about the western release of Hatsune Miku: Project Mirai DX. But today, the company finally confirmed it: the game will not come out next week in Europe and North America (the Japanese release is not impacted and will still take place on May 26th).
Here's the new date for Hatsune Miku: Project Mirai DX, which will cost 39.99$ at launch (retail + Nintendo eShop):
– North America: September 8th
– Europe: September 11th
SEGA also revealed a Launch Edition for the game, which will only only be sold in North America apparently. It will include:
– the game
– premium outer packaging
– 3-foot wallet chain (designed after Hatsune Miku's iconic belt)
– 19 double-sided AR) cards (available in all copies of the game at retail, not just the Launch Edition)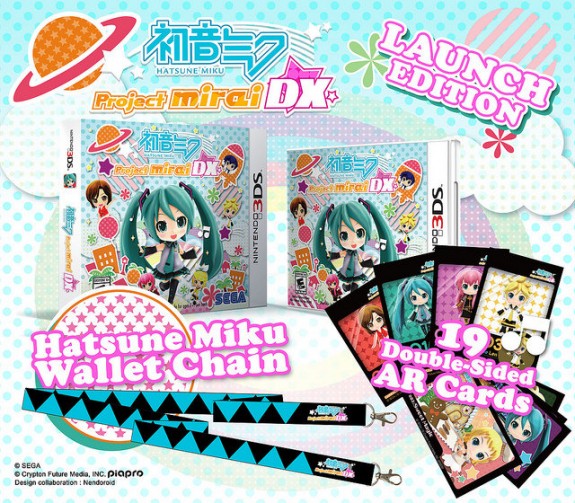 Hatsune Miku: Project Mirai DX includes 48 songs, two types of controls (Tap and Buttons), multiple difficulty levels, challenges, a virtual apartment to decorate, the Mirai Theater (for a replay of your favorite songs), the Dance Studio (to create your own choregraphy), My Tune (to compose your own songs), and Profile Cards (to share information with other players via StreetPass).
Here's some additional screenshots for the game:
Hatsune Miku: Project Mirai DX (3DS) comes out on May 26th in Japan, September 8th in North America and September 11th in Europe.
Source: SEGA