Guitar Hero Live announced for Wii U, trailer
A few minutes ago, Activision officially announced Guitar Hero Live, the newest entry in the Guitar Hero series. Unlike Rock Band 4, which isn't coming to Wii U (even though Harmonix isn't excluding a Wii U release altogether), this game will get a Wii U version, alongside the PS4 and Xbox One versions.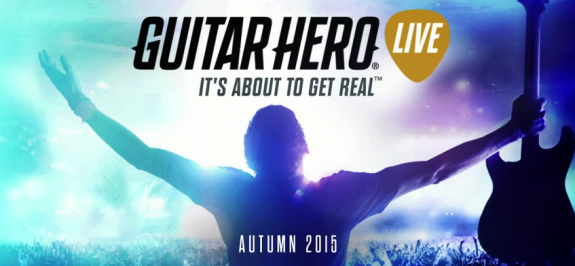 The game is developed by FreeStyleGames (who made DJ Hero 1 and 2), and will cost 99.99$ in North America. Unfortunately, the game won't be compatible with instruments from previous Guitar Hero games, as this one comes with a brand new controller (which has two rows of three buttons, as you can see on the picture below).
Several artists have already been confirmed: The Black Keys, Fall Out Boy, My Chemical Romance, Gary Clark, Jr., Green Day, Ed Sheeran, The War on Drugs, The Killers, Skrillex, The Rolling Stones, The Lumineers, Pierce the Veil and Blitz Kids. In the reveal trailer, Activision announced that the game would get new tracks on a regular basis, pretty much like the previous Guitar Hero games.
As for gameplay, Guitar Hero Live will feature a rather radical change: gameplay is now in first-person, and players will be facing a crowd (who will react in real-time to what you're playing). Footage in Single Player will be filmed: each song plays footage of a fictional band playing that very song, and you get to see it from the point of view of the lead guitarist (you).
There will also be a new mode called GHTV (Guitar Hero TV), where you will get to play alone or challenge friends and random players. It turns pretty much every single Music Video into a playable Guitar Hero track.
Here's the official trailer for Guitar Hero Live:
https://www.youtube.com/watch?v=-a4BalkpkTs
Source: Activision / IGN