Fire Emblem Heroes (smart devices) revealed; trailer, tons of details, screens, more
During today's Nintendo Direct presentation, entirely dedicated to the Fire Emblem series, Nintendo finally revealed its next game for smart devices. Called Fire Emblem Heroes, it's a tactical-RPG featuring characters from many Fire Emblem games, including some newcomers (designed by Yuusuke Kozaki).
Story
Here's what Fire Emblem Heroes is all about:
A world with two kingdoms: the Emblian Empire, which wishes to rule all worlds, and the Askran Kingdom, which stands in its way.
You are a summoner with the special ability to call upon legendary Heroes from different Fire Emblem worlds. In order to save the Kingdom of Askr from destruction, join the Order of Heroes and face a never-ending challenge.
Your main quest consists in leading your army to victory, in order to save the Kingdom of Askr. To do that, you bring together new faces with familiar heroes from the past!
Here's the opening movie for the game:
Characters
Here's some of the Heroes you will meet in Fire Emblem Heroes:
A prince of Askr Kingdom and member of the Order of Heroes. Kind and serious, and eager to maintain peace.
A princess of Askr and Alfonse's sister. Cheerful and loves making friends—especially with Heroes.
The young princess of the Emblian Empire. She aims to destroy the Kingdom of Askr by manipulating Heroes from other worlds.
A veteran fighter who leads the Order of Heroes. Alfonse and Sharena's commander.
Mysterious Man (new character)
A mysterious man who appears in front of the Order of Heroes time and time again.
Prince of Altea who fights for his homeland and deeply values his friends.
Known as the Voice of the Divine Dragon.Has lived for ages. Once friends with Marth.
Battles
The battles of Fire Emblem Heroes are still strategic turn-based battles, but they have been significantly streamlined for smart devices. The game features touch and drag controls, and gives you the ability to attack enemies simply by sliding an ally to an enemy character (you can also place it nearby, and then select your action). Battles take place on 6×8 grids.
In battle, you have to keep in mind the three types:
Red: Fire
Green: Wind
Blue: Water
Red is strong against Green which is strong against Blue which is strong against Red… yup, that's right! It's the Weapon Triangle, that fans of the Fire Emblem series know pretty well (and that's a good thing, because it works the exact same way!).
During battles, you can unleash powerful "Specials": special attack with devastating effects.
To win, it's pretty simply: defeat all the enemies on the map! But be careful: controls may be simple, the game remains challenging, and some maps will require you to make full use of the terrain to win. Fortunately/Unfortunately, there does not seem to be an insta-death system, as defeated allies return to your unit (which is not surprising, since you can pay for orbs, used to summon Heroes).
Summoning Heroes
Fire Emblem Heroes is all about summoning heroes, in order to help you in your quest. To do so, you use some orbs, which are obtained either by playing normally, or by using real money in the shop (this is a Free 2 Play title after all).
The type of the characters you get depends on the five coloured summoning stones you end up with (those are generated randomly). Basically, the Hero you end up with depends on the color type of the summoning stones you have.
If you summon more than one Hero from the same set of stones, then you will save some orbs (with 5 summonings allowing you to save the most orbs). In other words, summoning 5 heroes from the same set of stones will cost you less orbs than summoning 2 heroes from one set, and 3 from another set.
The number of stars on character's "card" indicates their strength: the more stars, the better. That basically means that you can have two characters with varying levels of powers. Naturally, you can also level up your characters, up to the famed 5-stars level. To do so, you can have them battle, and use special materials (no doubt those can be acquired using real-money!).
While Kozaki Yuusuke designed the new Heroes, characters from past Fire Emblem will get brand new illustrations by various artists (which is pretty standard for a F2P mobile game with similar mechanics), along with newly-recorded voiced lines.
Allies
Collecting heroes is one thing, but you also need to customise them, and put them into teams. From the Edit Teams menu, you can also have them learn new skills, change their equipment, and upgrade their abilities.
Regarding skills, you can use SP (Skill Points, gained by defeating enemies or leveling) to obtain new skills. There are three types of active skills:
There are also passive skills, which give you a boost just by equipping them.
Modes
Here's some of the game modes available in Fire Emblem Heroes (besides the main story):
Arena: fight against other players around the world. Your high score and ranking will determine your rewards—items that can increase your Heroes' abilities;

Training Tower: special battle scenarioes of varying difficulty, that allows you to earn rewards and XP. You can play them over and over again to keep earning more. Each time you take on these battle scenarios, the enemies and terrain change to offer a new challenge;

Special maps: seasonal evens. With those, you can take part in Hero Battles, which are only available for a limited time. If you manage to defeat the Heroes from that map, then they will join you as an ally. Sometimes, some really powerful heroes will appear!
Finally, there's your Home: this is the home base for the Order of Heroes, and the place where your allied Heroes gather. You can check notifications, your friend list, and more here.
Here's various screencaps from the official website:
Fire Emblem Heroes: Choose Your Hero Event
To celebrate the upcoming launch of the game, Nintendo launched the Fire Emblem Heroes: Choose your Hero Event. Basically, you can vote for your favorite characters, and the top Male and Female characters will appear in the game in a special outfit. Players will also get wallpapers based on the results of the vote, and My Nintendo members can get 200 Platinum Coins by voting (coins are awarded once the event is over).
Here's the release planning for the wallpapers: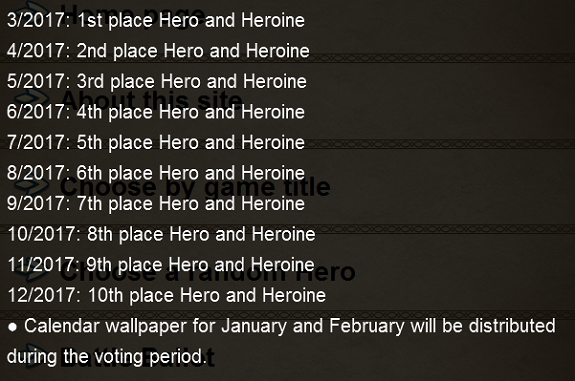 Here's what two of the wallpapers look like:
You can chose your hero…
by game title
selecting one at random
Click here to get more info about the event, but also vote for your favorite Heroes! The voting period for the vote ends on January 1st (5.59AM GMT).
Fire Emblem Heroes – Release date and screens
Fire Emblem Heroes will launch on February 2nd on Android and iOS, in the following countries (with more to be added later): Australia, Austria, Belgium, Brazil, Bulgaria, Canada, Croatia, Cyprus, Czech Republic, Denmark, Estonia, Finland, France, Germany, Greece, Hungary, Ireland, Italy, Japan, Latvia, Lithuania, Luxembourg, Malta, Mexico, Netherlands, New Zealand, Norway, Poland, Portugal, Romania, Russia, Slovakia, Slovenia, South Africa, Spain, Sweden, Switzerland, United Kingdom, United State.
Click here to pre-register, and get notified when the app launches (Android-only)!
Finally, here's some screenshots:
Fire Emblem Heroes (Android / iOS) comes out on February 2nd, worldwide (see the list of countries above). The
Upcoming Releases
page has been updated!