Fire Emblem Heroes: new Tempest Trials event now live (Dark Clouds over Awakening)
Today, it was announced that a new type of event for Fire Emblem Heroes would go live on Thursday: the Tempest Trials. It's the "survival mode" that was first introduced during the FEH Channel presentation a few weeks ago, and it's aimed at fans looking for some real challenge. For details about Tempest Trials themselves, check out the "What are Tempest Trials?" section below!
The first Tempest Trials event is called Dark Clouds over Awakening, and will be live from June 8th to June 22nd. You need to download the latest update in order to take part: click here for more details!
Here's the various difficulty levels and missions:
Here's the rewards you can claim during this first Tempest Trials event:
Tempest Trials Kick-off Campaign
Since all players get at least 1 billion points before June 13th (they got 2 639 517 292 in total), everyone gets the following as special Log-in Bonus:
10 Orbs
5 000 Hero Feathers
Personal rewards
Marth, the Enigmatic Blade (★4)
Marth, the Enigmatic Blade (★5)
Sacred Seal: Breath of Life 1 (If unit initiates attack, adjacent allies recover 3HP after combat)
Sacred Seal: Quickened Pulse (Special cooldown count -1 at start of Round 1)
Ranking rewards
And here's the bonus Heroes for this first Tempest Trials event:
40%: Robin (male), Lucina, Nowi, Tharja
20%: Robin (female), Marth (Lucina), Lissa, Alfonse
What are Tempest Trials?
Tempest Trials are a new kind of events for Fire Emblem Heroes. You get to challenge a series of high-difficulty maps, in order to get rewards. You can clear them repeatedly, which allows you to increase your score. This is pretty important, because the rewards you get depend on that very score! You can access Tempest Trials via the Battle section of the app.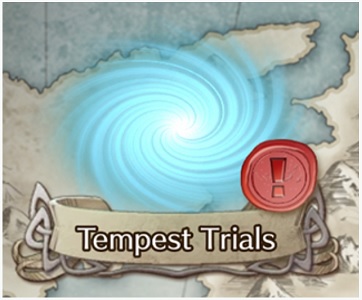 You can choose between several difficulty levels, which have an influence not just on the strength of enemies, but also the number of maps you have to go through, and the number of ally teams you can deploy. Don't try and be too greedy: choose the difficulty level that's best suited to your Heroes!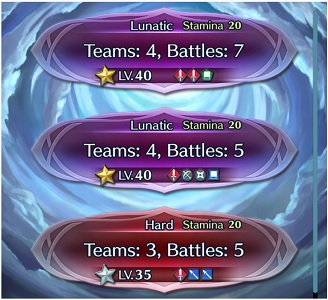 When all the allies on your team are defeated, you can immediately make a new team and try again. However, there's a catch: the allies that fall in battle will remain unusable until you've cleared the last map, or all your teams have been wiped out (which means you have to try again).
In other words, you will have to make sure all your allies survive each battle, which is going to be way easier to say than do. After all, units will continue to the next map with the same HP and cooldown as when they finished the last map: no healing in-between!
And of course, the "all units that fall in battle will remain unusable until you've cleared the last map" rule doesn't apply to enemies. If you start over a map using a new team, enemies will have respawned! However, their starting HP will be lowered by 20%, and their cooldown will be reset, which means they basically become easier to beat every time.
When you have cleared the final map of a session (which is always a boss battle), you can get your points. That score is based on your overall completion, and increases for the number of maps cleared, speed, and ally survival. Don't worry if you happen to fail: you will still get a lower score based on the number of maps cleared, but naturally, if you want the highest score possible, failure is not an option!
You can check out the rewards available during this first Tempest Trials event above!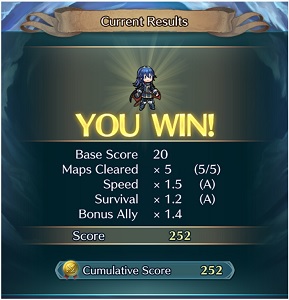 One thing to keep in mind is that you also receive a ranking based on your cumulative score, and there's some additional rewards you get based on that very ranking. For example, the screenshot below shows you can get a ★5 Masked Marth, some Orbs, and more.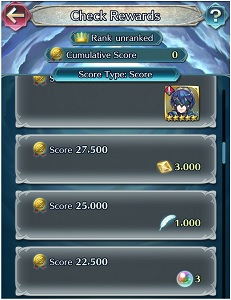 Also, just like in the Arena, there's Bonus Allies that you can use to increase your score. All you need is to have just one of those go into battle at least once, and you will get the bonus. It looks like there's several tiers (+20%, 40%), depending on the Heroes used. Do note that you cannot stack the bonuses by using multiple Bonus Allies: only the one giving you the biggest bonus will be kept.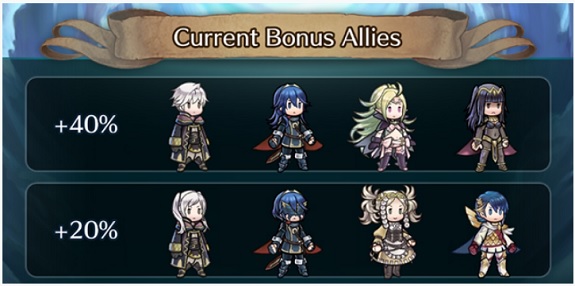 Finally, here's some screenshots for the Tempest Trials (including an artwork for Masked Marth, that's part of the first one):
Source: Fire Emblem Heroes / 4Gamer