Disney Art Academy: TV commercial, pre-loading now available, filesize (Japan)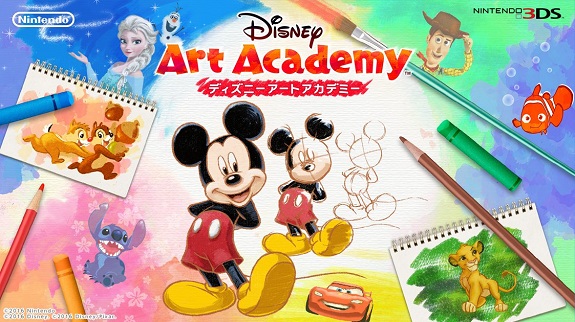 North America and Europe will not get Disney Art Academy until May and July respectively, but in Japan, the game is coming out in 2 weeks (on April 7th to be precise). Players who are planning to get the digital version can already pre-load it from the Nintendo eShop, or via Nintendo's website. In doing so, they will be able to start playing right away on April 6th at 10PM JST (3PM CEST / 2PM BST / 9AM EST / 6AM PST).
Here's some "technical" details about the game (including the filesize):
Genre: drawing lessons
Players: 1 / Up to 5 in Local Play
Save data file: 1 (requires at least 512KB)
Filesize: 2 589 blocks / 323MB
Internet features: post drawings to Miiverse and social networks (Twitter, Facebook)
Multiplayer: exchange drawings with other players (Local Play, up to 5 players)
Download Play: send trial lessons to other players (up to 5 players)
But that's not all: Nintendo already revealed a TV Commercial for the game, which can be found below. It showcases the game, but also mentions the New Nintendo 3DS cover plates launching on the same day in Japan (announced during the latest Nintendo Direct presentation).
Here it is:
https://youtu.be/tjeKR8YZk-Q
Disney Art Academy (3DS) comes out on April 7th in Japan, May 13th in North America, and July 15th in Europe.