Daily Briefs (Feb. 15) – Splatoon manga / US sales
Today's Daily Briefs:
US Sales
Splatoon
Bravely Second: End Layer
Bokujou Monogatari 3tsu no Sato no Taisetsuna Tomodachi
Yo-kai Watch
Cardfight!! Vanguard G: Stride to Victory
US Sales
Last week, the NPD published its monthly report about the video game market in the United States, providing us with data for January 2016. As usual, no sales data was revealed to non-subscribers, which is why we have to rely on inside sources to get some.
Here's some data for January:
Wii U: ~40 000 units
Mario & Luigi: Paper Jam Bros.: ~71 000 units (10 days)
Final Fantasy Explorers: ~53 000 units (6 days)
NB: sales data come from unverified, but trusted sources.
Splatoon
Today, the Squid Research Lab announced that a new Splatoon manga would start in the April issue of the Bessatsu CoroCoro magazine (to be released on February 29th in Japan)!
Bravely Second
Here's a French commercial for Bravely Second: End Layer, which comes out on February 26th in Europe, and April 15th in North America:
Bokujou Monogatari 3tsu no Sato no Taisetsuna Tomodachi
Here's a trailer for Bokujou Monogatari 3tsu no Sato no Taisetsuna Tomodachi, which shows Kasumi (one of the Bride candidates from Tsuyukusa Village):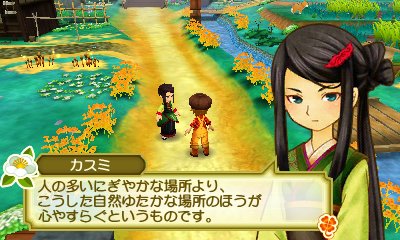 Source: Marvelous
Yo-kai Watch
Here's many pictures of upcoming Yo-kai Watch toys for North America, from the Toy Fair 2016:
Source: Kotaku
Cardfight!! Vanguard G: Stride to Victory
Here's a gameplay video for Cardfight!! Vanguard G: Stride to Victory, which came out last month in Japan: