Circle Ent.: sales for Witch and Hero / Mercenaries Saga 2; translation complete for Harvest December
Witch & Hero
Last week, Circle Ent. revealed some sales data for Witch & Hero (a simple but addictive Action-RPG), which came out on the Nintendo 3DS (via the eShop). Since its launch, the game has sold almost 170 000 units worldwide, with the vast majority from Asia (68%)… and without any discount whatsoever.
On the other hand, Europeans sales are not good at all: they are significantly lower than in North America, and most of them come from when the game was discounted.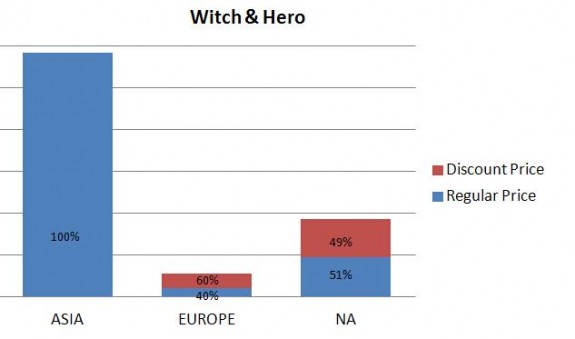 Source: Circle Ent.
Mercenaries Saga 2
Circle Ent. also gave some sales data about Mercenaries Saga 2. Shortly after launch, the game had already sold over 5 000 units in North America alone: it even made an appearance in the best-sellers list. Apparently, sales seem stronger than in Japan, which is quite unusual for this genre.
As for sales in Europe, a couple of days after launch, they seemed rather good, but the publisher didn't give any data. One thing to note is that, unlike North America, Circle Ent. was able to get Mercenaries Saga 2 on the front page of the Nintendo eShop in Europe, thanks to Nintendo.
Overall, Circle Ent. finds the sales numbers for the game encouraging, and on track to beat those for Adventure Bar Story.
Source: NintendoLife
Harvest December
Harvest December is a series a visual novels released on Nintendo 3DS, via the Nintendo eShop. A few months ago, Circle Ent. announced hat they were planning on releasing them in the West (most likely as a single game), and last week, we finally got some concrete news: translation is complete, and the team is currently working on the final QA round.
Source: Circle Ent.