Azure Striker Gunvolt: update 1.2 out today in NA, trailer
This week-end, during the Inti Creates Festa 2015, Inti Creates announced that Azure Striker Gunvolt would get a new update on March 11th in Japan. It will be available in a couple hours in North America, and it includes the following changes:
– Boss Rush Mission: to unlock the new Boss Rush Mission, you need to have beaten the game. If you get 1000+ kudos during Boss Rush, you can listen to the English version of Beyond the Blue;
– New Lumen Song: this new song, called "Sakura Efflorescence", plays during regular missions;
– New Nintendo 3DS optimisations: ZL/ZR are used to switch weapons on the fly, loading times have been improved;
– Demo: you can transfer all your progress from the demo to the full version;
– Bug Fixes: some bugs have been fixed (the bug that prevents players from progressing mid-game; typos; small bug fixes)
Besides this update 1.2, a demo version is coming out today in North America: it can be played up to 20 times, and it includes a cool little bonus (500,000Vig and lots of item snyth materials) for players who later go on and purchase the full version after completing the demo.
Finally, a new theme will be added later today to the Nintendo 3DS theme shop: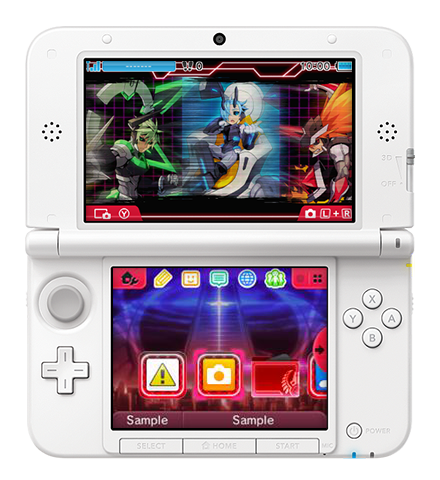 Here's a trailer for the update 1.2 for Azure Striker Gunvolt :
Update 1.2 for Azure Striker Gunvolt, the demo version and the 3DS theme will be available at 12PM EST / 9PM PST in North America.
Source: Inti Creates