Animal Crossing: Happy Home Designer will have in-game Miiverse sharing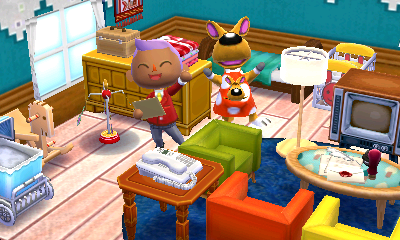 Today, Nintendo updated the official website for Animal Crossing: Happy Home Designer in Japan, and finally opened the last section. This section is about the various sharing options, which allow players to share screenshots of the game with friends via the internet. It turns out the game will have the usual options, but with a little twist:
– social networks (Twitter, Facebook) via the usual Image Sharing feature;
– Miiverse.
However, Miiverse sharing will be a bit different from usual, as you will be able to post pictures (complete with a comment/drawing) straight from Animal Crossing: Happy Home Designer, without having to go through the Home Menu. This is a first for a Nintendo 3DS game (outside of the Collectible Badge Center), and it doesn't look like a New Nintendo 3DS exclusive feature either: all you need is to be connected to the internet!
Using those features, you will be able to share pictures of a home you've designed, of your characters partying with their animal friends, and more. Here's some screencaps for the sharing options:
Animal Crossing: Happy Home Designer (3DS) and the first wave of Animal Crossing amiibo cards will come out on July 30th in Japan, September 25th in North America, and October 2nd in Europe.